---
FORTHCOMING 2019 BOOKS FROM THE POET'S PRESS/ YOGH & THORN:
Dante Alighieri. Purgatorio. Translated by Jacob Rabinowitz.

Thomas D. Jones. Voices from the Void (2nd edition).

David Messineo. 20 Minutes of Calm.

Arthur Erbe. Continuum.

Poets of the Palisades. Third anthology.

Brett Rutherford. The Pumpkined Heart: Pennsylvania Poems.

An Egyptian Reader.

The Diplodocus: A Poet's Press Sampler and Catalog
---
ON PRESS NOW!
BEWARE THE HOUSE.
POEMS BY SUSANNA RICH.
In Beware the House, poet Susanna Rich book-ends a wide-ranging collection of life story-poems between two Gothic, haunted houses, the first a surreal nightmare; the second, the mock-Gothic harpsichord-punctuated world of TV's The Addams Family. Unease, discomfort, and pain belong between two haunted places (confused birth and sardonic death), and Rich shares deeply personal accounts of her Hungarian-immigrant grandmother, obsessed in old age with Franz Liszt as an imaginary lover; and a disintegrating mother in the throes of dementia. At the center of the book are poems like glass shards of modern living, a keen and concise language palette turning the everyday into the extraordinary. Like a gypsy dance, these poems careen off common experiences — the grandmother's kitchen, the captive butterfly, a rebellion of trees, the driven car and the rubbernecked accident. And there are villains: the predatory boor repulsed, the unteachable student lesson-taught, the empty soul of the CEO laid bare, the bad president as piñata, the lecherous poetry professor, the restless Dybbuk.
Susanna Rich is a bilingual Hungarian-American, Fulbright Fellow in Creative Writing, and Collegium Budapest Fellow — with roots in Transylvania and family ties to the Blood Countess, Elizabeth Báthory. She is a Distinguished Professor of English Studies at Kean University (NJ). Susanna is also an Emmy Award nominee, and the founding producer and principal performer at Wild Nights Productions, LLC. Her repertoire includes the musical, Shakespeare's *itches: The Women v. Will, and ashes, ashes: A Poet Responds to the Shoah. She is author of three earlier poetry collections, Television Daddy and The Drive Home (Finishing Line Press), both of which are also Wild Nights performances; and Surfing for Jesus (Blast Press).
ISBN 978-0-922558-34-6. 145 pp., 6 x 9 inches, paperback. Published April 2019. $16.95.
---
BREAK EVERY BOND: SARAH HELEN WHITMAN IN PROVIDENCE.
Literary Essays and Selected Poems by Sarah Helen Whitman. Edited and Annotated by Brett Rutherford.
Sarah Helen Whitman (1803-1878), poet and critic, is best known for her brief engagement to Edgar Allan Poe in 1848, and for her role as Poe's posthumous defender in her 1860 book, Edgar Poe and His Critics. She is seldom treated as more than an incidental person in Poe biography, and no books of her own poetry were reprinted after 1916. As critic, she was a ground-breaking American defender of Poe, Shelley, Byron, Goethe, Alcott, and Emerson, yet none of her literary essays other than her defense of Poe have ever appeared in book form. She and her friend Margaret Fuller are credited with being the first American women literary critics.
This volume presents Whitman's literary essays with more than 500 annotations and notes, tracing her literary sources and allusions, and revealing the remarkable breadth of her readings in literature, philosophy, history, and science. Brett Rutherford's biographical essay is rich in revelations about Whitman's time and place, her family history, and her muted career as poet, essayist, and den mother to artists and writers. Exploding the standard view of her as the secluded "literary widow," we can now perceive her as a literary radical pushing against a conservative milieu; a suffragist and abolitionist who dabbled in séances; and a devotee of the New England Transcendentalists and the German Idealists who inspired them.
The complete text of Edgar Poe and His Critics presented here, includes the opposing texts by Rufus Griswold, whose libels provoked her landmark defense of Poe's writing and character. This annotated version identifies all the contemporary press reviews and books Whitman read and critiqued, making it indispensible for students of Edgar Allan Poe.
The selected poems in this volume include the hyper-Romantic traversal of rival mythologies in "Hours of Life," her most ambitious work; her poems to and about Edgar Allan Poe; sensitive and atmospheric nature portrayals; a defense of the then-reviled art of the drama; a love poem from Proserpine to Pluto; an occasional poem about Rhode Island penned in the after-shadow of the Dorr Rebellion; and translations from French and German poets, most notably the most famous of all European ghost ballads, Bürger's "Leonora." Whitman's allusions and unattributed quotations from other poets are all annotated, making this book a must for scholars and students.
ISBN 978-0-922558-00-1. 302 pp., 6 x 9 inches, paperback. A Yogh & Thorn Book. Published February 2019. $18.95.
---
JACQUELINE DE WEEVER. RICE-WINE GHOSTS.
Jacqueline de Weever's second poetry collection, Rice-Wine Ghosts, is haunted by the flora and fauna of the Western hemisphere, "the world's garden, /where poisons hide in glitter,/ soar and dip of bright wings." These are poems personal rather than political or polemical, tracing brilliant moments of encounter with a voluptuous world — the British Guyana of her childhood, the Caribbean, the Andes, the Amazon, and far, far off, the Pleiades and the moon. A lemon tree in a Moroccan courtyard, sunflowers outside Florence, a dash of Japanese rice wine, the indigo blue of Canton china, a chest full of Ivory Coast batiks. Yet there is also loss: the survivor of earthquake and tsunami, "desolation stamped in her slow/ stride, humped shoulders, drooped head," a search for a remembered star constellation that refuses to show itself, a state of coma as "death's high priest … behind the closed door of your eyelids." This book is a treasure-trove of voluptuous imagery and moonlit recollections of beauty, memory, and yearning. The author's catalog of tropical flora and fruit makes up her armory: "I hoard/ jungle flowers/ to warp the hunger/ of the crocodile/ slowly approaching my shore."
74 pp., illustrated. The 231st publication of The Poet's Press. 6 x 9 inches, paperback. Published December 2017. ISBN 0-922558-90-6 $12.95.
---
BRETT RUTHERFORD. CRACKERS AT MIDNIGHT: NEW POEMS AND REVISIONS 2015-2017.
This book's title-poem — a small recollection of a hungry boy meeting his grandmother for a secret feast of saltine crackers and butter — is a metaphor for the book itself: a feast of poetic narratives and visions that the reader can savor, indulging in "just one more" until the last page is turned. Two story-poems come from the Pennsylvania landscape: the tale of Pittsburgh's radioactive millionaire who haunts Allegheny Cemetery, and the childhood memory of a visiting Rabbi who makes a Golem-monster in rural Scottdale. The feast, however, also spans continents and era, as the poet takes us to the grave of Leonardo da Vinci in France, the exhumation of Goethe's body in Weimar, a flamingo sacrifice by the Emperor Nero, ancient Alexandrian gossip about ibises, and a shattering visit to the home of Emily Dickinson in Amherst. Sometimes the poems inhabit a strange, visionary world, overhearing a prayer on Cyprus from a hunted archbishop, visioning Eldorado rising from a glacial lake, or penetrating the psychology of the Egyptian Pharaoh Snofru. A cluster of nature poems from Edinboro Lake in Northwestern Pennsylvania, and some melancholy contemplations on "The Loved Dead," round out this collection of 40 poems.
126 pp., illustrated. The 236th publication of The Poet's Press. 6 x 9 inches, paperback. Published March 2018. ISBN 0-922558-95-7 $12.95.
Buy the Ebook
---
NEW SECOND, REVISED EDITION, PRINT AND EBOOK.
THE GODS AS THEY ARE, ON THEIR PLANETS. Brett Rutherford. Revised second edition, 2018.
Poetry is dangerous, and few poets are more hazardous to complacency than Brett Rutherford. Who would have guessed that poetry — America's most-avoided art — could come roaring back in a big, wide-ranging book of provocative, understandable, beautiful poems? This book may change how you think about poetry. Praised by Robert Bloch and Ray Bradbury for his dark and supernatural poetry — of which there is a good chunk in this book — this poet is also much more than a master of the macabre. His autumn poems, and other writings centered on nature, astronomy, and the human place in the cosmos, are heir to the grand tradition of such diverse masters as Shelley, Whitman, Hugo and Jeffers. Although the poems are mostly free in form, they are striking in language and Romantic in spirit. Whether writing about Clyde Tombaugh's discovery of Pluto in 1930, or speaking in the voice of a linden tree in Soviet-invaded Prague, these are poems that tell stories and tell them clearly. And when he turns to the hard, real world, in poems about the World Trade Center disaster, or the ages-old invasion of Korea by Japanese warlords, Rutherford writes as a humanist who sees individuals always able to choose between good and evil. This book, containing poems written or revised between 1991 and 2004 in New York City and in Providence, RI, first appeared in 2005, released simultaneously in print and as a free PDF download. More than 15,000 copies were distributed to a world-wide audience. In this new, second edition, the poet has revised a number of the poems, and split the book into two parts (
Prometheus on Fifth Avenue
is the second half). Take up this book, take a deep breath, and plunge in.
Second Edition: ISBN 0-922558-93-0. Published February, 2018. 6 x 9 paperback, 218 pp., $13.95. PDF download $2.99.
Buy Ebook Now
---
NEW SECOND, REVISED EDITION
PRINT AND EBOOK.
PROMETHEUS ON FIFTH AVENUE. Brett Rutherford. Revised second edition, 2018.
This is the companion volume to The Gods As They Are, On Their Planets, containing the remainder of that 2005 book's poems, many revised and expanded for this new edition, and newly typeset and illustrated. A set of poems from the poet's childhood and young years in Pennsylvania, provokes the reader to re-think "imaginary playmates," to re-live the anguish of doomed obsessions, and to revel in tree, forest, lake, and graveyard in his "first-found home." Another sequence of love poems are sad, astronomical, haunted, and transcendental, culminating in the challenging poem "Triptych." This book, containing poems written or revised between 1991 and 2004 in New York City and in Providence, RI, first appeared in 2005, released simultaneously in print and as a free PDF download. More than 15,000 copies were distributed to a world-wide audience.
Second Edition: ISBN 0-922558-94-9. Published February, 2018. 6 x 9 paperback, 262 pp., $13.95. PDF download $2.99.
---
NEW FOR 2018 ...
SONNETERIA: COLLECTED SONNETS AND OTHER POEMS. Jack Veasey. Published January, 2018.
During his last year of painful illness, poet Jack Veasey left his final poetry manuscript with his long-time publisher, The Poet's Press. Veasey died in mid-2016, and this 216-page collection includes his collected sonnets (167 of them), a miscellany of other poems, and one Magick ritual. Sonnets, like Scarlatti sonatas, need to be relished a few at a time. Each visit to this vault of sonnets brings the reader new delights, humane observations and sometimes bitter jabs at the everyday, from the vantage of an "outsider." Veasey has observed that the rigor of the sonnet led him to say unintended things and find, in tight language, truths he did not know he knew.
Jack Veasey (1955-2016) was a Philadelphia native who lived in Hummelstown, PA for over 20 years. He was the author of twelve previous published collections of poetry, most recently The Dance That Begins And Begins (The Poet's Press, 2015). His poems also appeared in many periodicals including Christopher Street, The Pittsburgh Quarterly, Assaracus, Harbinger: A Journal of Social Ecology, The Philadelphia Daily News, The Painted Bride Quarterly, Fledgling Rag, Oxalis, The Blue Guitar, Bone and Flesh, Zone: A Feminist Journal for Women and Men, Film Library Quarterly (Museum of Modern Art, NYC), Experimental Forest, Tabula Rasa, Wild Onions, Mouth of the Dragon, Asphodel, Insight, The Irish Edition, The Harrisburg Patriot-News, The Harrisburg Review, The Princeton Spectrum, The Little Word Machine (U.K.), and The Body Politic (Canada), among others.
ISBN 0-922558-92-2. Published January, 2018. 6 x 9 paperback, 214 pp., $14.95. PDF Ebook $3.99.
Buy Ebook Now
---
NEW SECOND EDITION AVAILABLE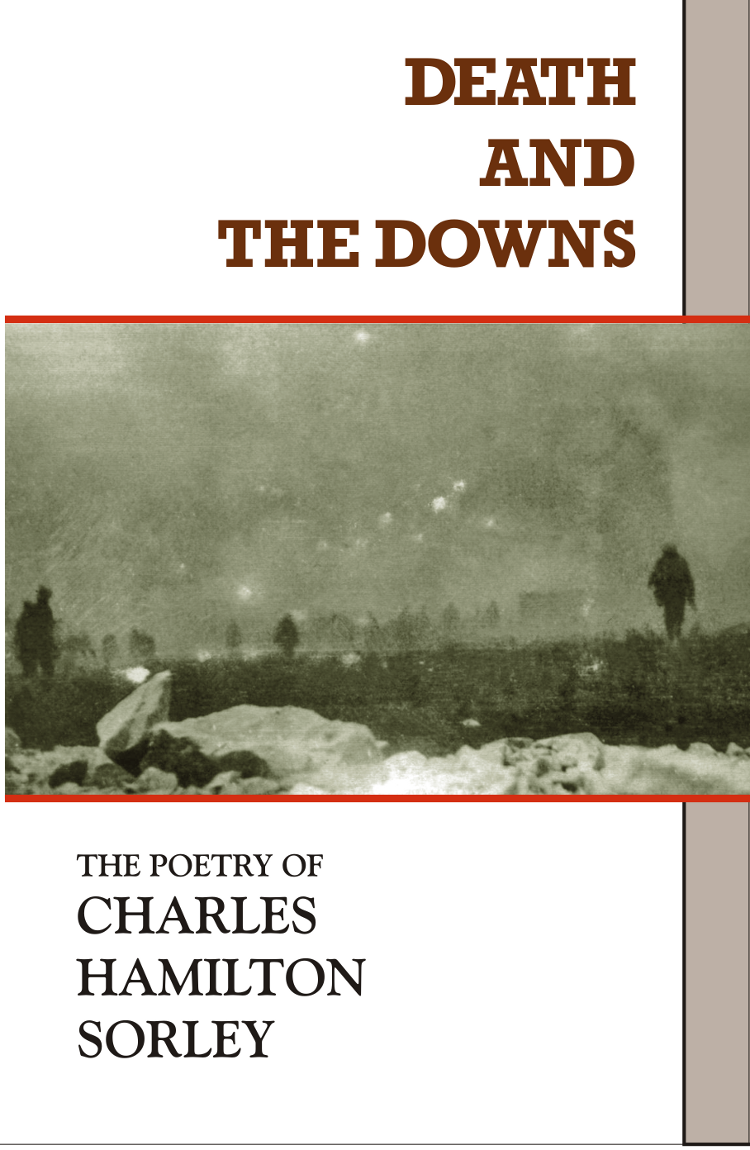 DEATH AND THE DOWNS: THE POETRY OF CHARLES HAMILTON SORLEY. Revised second edition, 2017,edited and annotated by Brett Rutherford. Robert Graves called Sorley one of the three best poets killed in World War I. Shot by a German sniper in the Battle of Loos, Charles Sorley died at age 20, leaving behind enough poems for a slender volume published by his father in 1915: Marlborough and Other Poems. Several of Sorley's poems have been featured in countless war anthologies, but the poet's complete work was kept in print only until 1932. There was a reprint sometime in the 1970s and then Sorley seems to have been forgotten again.

Sorley's nature poems, inspired by English naturalist Richard Jefferies (the British Thoreau), depict the haunted landscape of the Wiltshire Downs, from the days of Roman-occupied Britain to Sorley's own time. As a student at Cambridge, young Sorley was steeped in the classics; he then traveled to Germany to study and was in school there when the War broke out. He was arrested and sent home by the German government, and within days of returning to England, Sorley enlisted. The last set of his poems, written in the battlefield, contain both stark soundings of death, but also a kernel of wisdom and tolerance, as when he addresses a poem to the Germans he cannot bring himself to hate. Perhaps the most poignant poem is one he sent home retelling a key scene from Homer's Odyssey and then assuring his friend that he, too, ten years hence, would be telling his own war stories by the fire. Three months later, Sorley was dead. His last poem, a blistering war sonnet, was sent home to his father in his kit. Sorley's body was never found.
This volume includes passages from letters, selected by Sorley's father as illustrative of the themes of the poems in the book. To make this volume more accessible to today's readers (and to students), Brett Rutherford has annotated both the poems and the letters, making clear the numerous classical and Biblical allusion that would have been well-known to Sorley's contemporaries. Some 1903 photos of the Wiltshire landscape have also been added, taken from an edition of Jefferies nature writing. The book was completely re-typeset from the 1932 edition, using typefaces from the World War I era. The book also includes an annotated checklist of the critical reception of Sorley's work from 1915 through 1973, by Larry Uffelman; a biographical sketch of the poet written by his mother for the 1919 Letters of Charles Sorley; additional letters; and juvenilia.
A Yogh & Thorn Book.
Second Edition: ISBN 0-922558-89-2. Published Oct 5, 2017. 6 x 9 paperback, 184 pp., $14.95. PDF download $5.00.
Buy Ebook Now
---
PIETER VANDERBECK. COFFEE BREAK: A RADIO DRAMA IN TWELVE EPISODES.
It's easy to treat the "little people" who do the world's unmemorable jobs as comical characters, like the bus drivers and sewer workers in televison's The Honeymooners, or to veer to the other extreme in tragic portrayals like Death of a Salesman. Now artist and poet Pieter Vanderbeck dons the cap of Nikolai Gogol and lifts the lid off a microcosm of American working life amid a humble cast of characters: security guards, desk clerks, maintenance men, and janitors laboring at the bottom rung of an unspecified company. Coffee Break spins from America's caffeine obsession and the relentless, aggressive advertising that once dominated the radio airwaves, and focuses on a crew of working men and women who seldom leave the corridors, offices and infrastructures of a single building, for whom the coffee break is a brief respite of humanity and a glimmer of camraderie. Atop them is a supervisor, and atop him, an arrogant anthill of bosses with schemes, theories, controls and disciplines. Coffee Break is comedy, rife with satire on the limited — and self-limiting — perspectives of workers who know little else other than work, but it goes deeper, showing how those at every level of a company enact the inept cruelties of their bosses upon those below them, so that even a janitors' workroom, or a restroom stall, becomes a place of surveillance.
144 pp., illustrated. The 232nd publication of The Poet's Press. 6 x 9 inches, paperback. Published December 2017. ISBN 0-922558-91-4 $12.95. Or download the PDF ebook for $4.00.
Buy Ebook Now
---
BRETT RUTHERFORD. THINGS SEEN IN GRAVEYARDS.
Brett Rutherford has given new life to the genre of the "graveyard poem." In this bracing collection of 31 works, what started as a mere poetic journal of odd "things seen" grew into a broad collection of descriptive and narrative poems about tombs, burials, exhumations, and the gatherings of admirers at the graves of famous writers and artists. Read the Macbeth-like saga of a Japanese warlord who buried the ears of 100,000 Korean victims; the uneasy burials and re-burials of Goethe and Leonardo da Vinci; sightings of cemetery sleep-walkers and mausoleum robbers; the oak tree that consumed the bones of a witch-trial judge in Salem; and the story of Pittsburgh's radioactive millionaire, sealed in a lead-lined coffin in Allegheny Cemetery. In a "verse mystery," the poet reveals the confrontation between Edgar Allan Poe and The Spectre of St. John's Churchyard in 1848 Providence. Although Pennsylvania graveyards give rise to some of the most atmospheric works in this volume, Things Seen in Graveyards also includes visits to Hart Island (the Potter's Field of New York City), Mt. Auburn in Cambridge, Lovecraft's grave in Swan Point Cemetery in Providence, the cursed ground of Aceldema in Israel, a burial shrine in Kyoto, and the loneliest cemetery in the world in the Atacama Desert of Chile. Spectral, satirical, romantic, supernatural and transcendental, these poems will make your skeleton dance and sing. This is an expanded second edition of this work, with many of the original poems revised or expanded, and eight new poems added.
116 pp., illustrated. The 229th publication of The Poet's Press. 6 x 9 inches, paperback. ISBN 0-922558-88-4 $12.95. Or download the PDF ebook for $2.00.
Buy Ebook Now
---
THE WRITINGS OF EMILIE GLEN 4: POEMS FROM MANUSCRIPTS.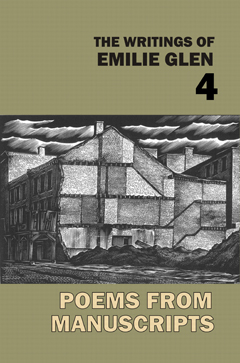 This fourth and final volume collects all the unpublished manuscripts left by New York poet Emilie Glen. These 180 poems, lyric and narrative, far from being the "bottom drawer" of the poet's work, contain the same urban savor as her longer works. Some of these poems were read by the poet repeatedly at the poetry salon she ran in Greenwich Village, and prior to that, at the salon she ran at her high-rise apartment on the Lower East Side in the 1960s and 1970s. As always, her most engaging poems are miniature short stories, all set against a noir Manhattan that includes both shocking murders as well as moments of unexpected beauty among fire escapes, trash cans, alley cats, and the migratory birds in Central Park. The book includes several surprisingly experimental works and a true account of a horrifying psychopath who ran a Greenwich Village coffee house. Published March 2017.
152 pp., illustrated. The 228th publication of The Poet's Press. 6 x 9 inches, paperback. ISBN 0-922558-87-6 $14.95. Or, purchase the PDF ebook for $2.00.
Buy Ebook Now
---
THE POETS OF THE PALISADES ARE BACK.
META-LAND: POETS OF THE PALISADES II.
Edited by Paul Nash, Denise La Neve, David Messineo, Susanna Rich, and John J. Trause. Viewed on a geological time scale, poetry is a very recent phenomenon. Paul Nash's foreword explains the emergence of this exciting new anthology from one of earth's oldest igneous outcroppings. "After five millennia of recorded history, toward the end of the 20th Century, writers begin to gather together, to coalesce in cafés, libraries and other literary watering holes upon or near the ancient basaltic fastness of the New Jersey Palisades. This post-geological phenomenon has been collectively named 'The Palisades Poetry Movement.' The first anthology by the Poets of the Palisades, Beyond the Rift, was published in 2010, and featured the work of 39 poets from the tri-state area. This new volume, Meta-Land, assembles 121 works by 58 poets, arranged in 11 themed sections. All of the pieces that appear in the anthology are by authors who were featured in the on-going North Jersey Literary Series held at the Classic Quiche Café in Teaneck, New Jersey, between 2010 and 2015. This collection delves deeply into our 'metaperceptions:' how we see ourselves, the universe, and what we question, feel or think. Diverse voices that represent a modern world of both natural beauty and cosmopolitan sophistication explore the fundamental nature of reality, existence, knowledge, values, reason and mind. We find ourselves in a 'Meta-Land,' where symbols of symbols are nested like matryoshkas, and meaning's reach extends past all horizons." Published July 2016.
250 pp., illustrated. The 226th publication of The Poet's Press. 6 x 9 inches, paperback. ISBN 0-922558-85-X $19.95. CLICK BELOW TO ORDER FROM AMAZON
Buy PDF Ebook Now
---
HEINRICH HEINE: GERMANY: A WINTER'S TALE.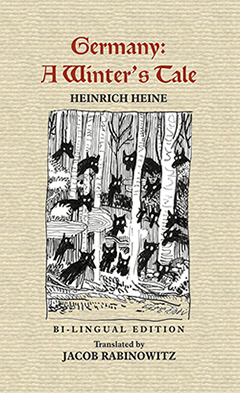 Bilingual Edition in English and German. Translated by Jacob Rabinowitz.
In 1835, the German principalities and cities banned the works of German-Jewish poet Heinrich Heine. The censors banned not only the works Heine had already published, but also prohibited, in advance, any work the writer might produce in the future. When Heine sneaked across the border from his Paris exile in 1843, the result was the poem-cycle Deutschland: Ein Wintermärchen (Germany: A Winter's Tale). The Hamburg publisher Julius Campe published this book, and kept all of Heine's work available "under the counter," so that the banned poet was read even more widely than ever. Heine's satires against German arrogance and militarism would continue in the 1840s, when the poet and Karl Marx worked together on the revolutionary newspaper Vorwärts. Heine's books would be banned again by the Nazis, who made a point of burning his books, and erasing his name from published song lyrics. Even the most famous of all German Lieder, "The Lorelei," was now said to have lyrics by "Author Unknown."
Jacob Rabinowitz's adaptation of the 27-poem cycle renders Heine's verses into rapid-fire lines, almost as though Lenny Bruce were channeling his 19th century forebear. And instead of peppering the text with explanatory footnotes on the context of German culture and history in the poems, Rabinowitz incorporates helpful elucidations into the flow of the poems. For those who want to read the original German for themselves, this edition includes the complete 1844 German text on facing pages. With a Foreword by Brett Rutherford.
The 227th publication of The Poet's Press/Yogh & Thorn Books. ISBN 0-922558-86-8. 6 x 9 inches, 220 pages. $14.95. To order this book from Amazon, CLICK BELOW. Or, purchase the PDF ebook for $3.00.
Buy Ebook Now
---
---
Enemy On The Way to School. New second printing for 2016. Poems of a German Jewish childhood in the 1930s. Set against the background of the rising Nazi menace, these poems leave an indelible impression of a lost world, and the eternal alienation felt by those who left it behind. With an introduction by poet Mary Ferrari. ISBN 0-922558-21-3. Paperback $9.95. CLICK BELOW TO ORDER FROM AMAZON.
Buy PDF Ebook Now
---
NEW FROM YOGH & THORN BOOKS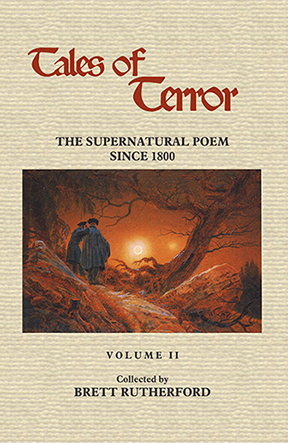 TALES OF TERROR: THE SUPERNATURAL POEM SINCE 1800. VOLUME 2.
"The Goblins will get you if you don't watch out!"
Terrifying Poems of Ghosts, Monsters and Cosmic Terror
From the 1890s to the Present
This annotated edition of 176 supernatural-themed poems is the second part of a modern sequel to Matthew Gregory Lewis's famous 1801 poetry anthology, Tales of Wonder. As might be expected, several of the best-known horror writers who were also poets are here, including H.P. Lovecraft, Clark Ashton Smith, and Frank Belknap Long. But surprises abound as ghosts, goblins, fairies, monsters, and cosmic doom escape the pens of poets from the United States, Britain, Ireland, Australia, Switzerland, and Germany. Treasures to be found in this volume include the lore of The Flying Dutchman, arctic werewolves, an octopus-woman, a rampaging Sphinx, malevolent fairies, house ghosts, a painting fatal to look upon, Santa Claus's evil cousin, the Phantom of the Opera, mad scientist Nikola Tesla,  "women scorned" with revenge in mind — plus the inevitable sea serpents, Gorgons, vampires, and the hungry slime mold that ate Providence, Rhode Island. This volume samples the best supernatural-themed poems from the 1890s to about 1930, and then leaps forward to offer over a hundred pages of Gothic works by contemporary poets working in a variety of styles.
For the poetry lover, and for the fan of supernatural literature, this book is a year-round Halloween treat of entertaining and alarming poems to read aloud — bedtime stories for very bad children. For the scholar of the Gothic, it presents an intriguing array of poems that range from overtly entertaining Gothic narratives, to works that employ the devices of the Gothic for other ends, social, political, or personal. The book also includes a cumulative bibliography of source materials on the supernatural and Gothic in poetry.
Poets included in this anthology are:
THOMAS HARDY
EDMUND CLARENCE STEDMAN
WALTER CHALMERS SMITH
CLINTON SCOLLARD
JAMES WHITCOMB RILEY
MADISON CAWEIN
THOMAS LOVELL BEDDOES
STEPHEN VINCENT BENÉT
WALTER DE LA MARE
LIONEL PIGOT JOHNSON
JAMES ELROY FLECKER
HAROLD MONRO
JOHN DRINKWATER
WILLIAM BUTLER YEATS
KATHERINE TYNAN
JOSEH PLUNKETT
CATHAL O'BYRNE
PATRICK JOSEPH McCALL
ALICE FURLONG
OSCAR WILDE
FRANCIS LEDWIDGE
LEWIS SPENCE
CARL SPITTELER
CHARLES DAWSON SHANLY
WILLIAM WILFRED CAMPBELL
HENRY KENDALL
SAMUEL SLOPER
RICHARD WAGNER/li>
SIR JOHN COLLLINGS SQUIRE
ROBERT GRAVES
ROBERT CAMERON ROGERS
HOWARD PHILIPS LOVECRAFT
FRANK BELKNAP LONG
CLARK ASHTON SMITH
BARBARA A. HOLLAND
JOEL ALLEGRETTI
CLAUDIA DOBKINS-DIKINIS
SHIRLEY POWELL
BRETT RUTHERFORD
PIETER VANDERBECK
JACK VEASEY
SCOTT THOMAS
JACOB RABINOWITZ
Published May 2016. 6x9 inches, paperback. 348 pp. ISBN 0-922558-84-1    $19.95. CLICK BELOW TO ORDER FROM AMAZON.
Buy Ebook Now
---
COMPLETE YOUR COLLECTION WITH VOLUME 1!
TALES OF TERROR: THE SUPERNATURAL POEM SINCE 1800. VOLUME 1.
Terrifying Supernatural Poems and Ballads by Coleridge, Shelley, Scott, Byron, Robert Browning, Christina Rossetti, Poe, Longfellow, Heine, Baudelaire, Hugo, Pushkin and others.
This annotated edition of 65 memorable supernatural-themed poems is a modern sequel to Matthew Gregory Lewis's famous 1801 poetry anthology, Tales of Wonder. Treasures in this volume include two translations of scenes from Goethe's Faust by Coleridge and Shelley; supernatural verses and ballads gleaned from Sir Walter Scott's Waverly novels; Shelley's supernatural poems, both juvenile and mature; Longfellow sharing ghost stories from The Song of Hiawatha, and fierce legends from Norse myth and history; all of the overtly supernatural poems of Edgar Allan Poe; Robert Browning's famed "Pied Piper of Hamelin"; Christina Rossetti's delicious "Goblin Market"; and a feast of shuddery French, Russian, and German poems in translation from Hugo, Heine, Gautier, Baudelaire, Pushkin and Sologub. For the poetry lover, and the fan of supernatural literature, this book is a year-round Halloween treat of entertaining and alarming poems to read aloud — bedtime stories for very bad children. For the scholar of the Gothic, the volume presents an intriguing array of poems that range from overtly entertaining Gothic narratives, to works that employ the devices of the Gothic for other ends, social, political or personal. The book also includes an annotated bibliography of source materials on the supernatural and Gothic in poetry.
This series is designed to be continuous with our two-volume edition of the Monk Lewis anthology, Tales of Wonder.
314 pp., illustrated. The 213th publication of The Poet's Press/ Yogh & Thorn Books. 6 x 9 inches, paperback. ISBN 0-922558-80-9 $19.95. CLICK BELOW TO ORDER FROM AMAZON. Or, purchase the PDF ebook for
Buy Ebook Now
---

DON WASHBURN.
PRAYER BEADS:A POEM CYCLE.
Don Washburn, born in Easton, Pennsylvania, went on to Yale and Denver University, and a career in college teaching embracing English literature, semantics, speech, and metaphysics. He first taught at Edinboro State College in Pennsylvania, and later during his many years in North Adams in the Berkshire Mountains, teaching at what is now the Massachusets College of Liberal Arts, he explored Sufism, composed music, enlightened generations of curious students, and published two books of poetry, The Boy From Under the Trees and In the Eye of the Red-Tailed Hawk. His Sufi studies began in 1980 at the Sufi Order of the West at the Abode of the Message at new Lebanon, New York, where he became an initiate and a cherag, trained to preside at Universal Worship Services. Now in his 80s, Washburn has circled back to the Christian fold, and this book is his culminating synthesis of his spiritual quest. The poems deliver as much challenge as comfort, and they do not pull back from indicting destructive elements in today's politics and mass culture.
In his notes about the poems, Washburn writes: "These poems are a kind of testimony. When younger, I sought spiritual knowledge in books. Later, the Sufis taught me it resides in the human heart. But most importantly, throughout my life, I was blessed with intimations that could turn into poems. A prayer bead is a reminder. A prayer bead has the power to summon an inspiration, but makes no pretense to comprising it. Poems that approach the ineffable can also serve as pointers. Nothing to quarrel over, just a finger in the moon's direction. In the case of God, the finger must point everywhere.
"I am a little astonished that the exacting ten-line form these poems have taken could be so accommodating. They are all round, like prayer beads, the refrain making a perfect circle. How I managed to close the circle so many times, can only be explained as God's will. In time when so few people are capable of faith, I like to think I have been commandeered for a necessary service.
" … Sufism has been my mystical education, laid out in the writings of Rumi and Hazrat Inayat Khan. The Sufis teach that all religions point to the same divine Truth. So I also enjoyed an absolute religious freedom. And in my eighties I was able to reprise the Christian church of my boyhood.
"On my death bed, I will take pleasure in the thought these poems can go on talking to people in my absence."
The 224th publication of The Poet's Press. Published March 2016. 196 pp.,6 x 9 inches, paperback. ISBN 0-922558-83-3. $16.95.
TO ORDER FROM AMAZON, CLICK BELOW. Or, purchase the PDF ebook for $3.00.
Buy Ebook Now
---
THE WRITINGS OF EMILIE GLEN 3: POEMS FROM MAGAZINES 1955-1990.
For more than four decades, New York City poet Emilie Glen produced a torrent of poetry, widely published in little magazines all over the world, and in a series of books and chapbooks that went through numerous reprints. Yet when the poet died in 1995, all that remained of her papers were several shopping bags full of manuscripts, chapbooks and tear sheets of already-published works. From this legacy, Brett Rutherford has assembled all the presently-available poems of this prolific New York poet. This third volume presents the 193 recovered poems that appeared in magazines and newspapers, but were not included in Glen's many chapbooks. None of these poems exist in manuscript.
Because the works are here in the order discovered, the book's randomness invites at-random reading. Open anywhere, and the Emilie we know from the first volume is still here in spades: poet, actress, pianist, bird-watcher, cat-lover, nature rhapsodist, the woman of Manhattan with a piercing eye for character and image. She is the city, the street, the windows, the bridges and tunnels, the parks and fountains, the desperate dreamers on the doorsteps.
The journals that originally published these poems include The Prairie Schooner, Southwest Review, Chat Noir Review, The Christian Science Monitor, Quartet, Snowy Egret, Coe Review, The Georgia Review, Midwest Quarterly, Coffee House Review, Green's Magazine, Poetry Venture, Lynx, Encore, Cats Magazine, Imprints, Etchings, Limbo, Manifold, Loon, Free Lance, Lake Superior Review, Massachussets Review, Beloit Poetry Journal, and Poet Lore. Other poems in the book are from tear-sheets from unidentified publications.
The editor located eleven poems originally published in ETC: A Review of General Semantics, and they are published here as a group since there is a thematic connection to some of the key ideas in semantics. These poems play on the paradoxes and ironies of how things come to be named, how we are manipuated by names such as "Acme" and "Atlas" and suggestions of royalty, and how journalism molds its own reality of what is "news" and what is not.
This volume also includes the full text of an out-of-print chapbook from 1963 titled Laughing Lute and Other Poems. This complements the chapbook-based text from Volume 1 of this series.
The 223rd publication of The Poet's Press. ISBN 0-922558-82-5. 6 x 9 inches, 224 pages. $16.95. To order this book from Amazon, CLICK BELOW. Or, purchase the PDF ebook for $2.00.
Buy Ebook Now
---
THE WRITINGS OF EMILIE GLEN 2: FICTION AND PROSE POEMS.
Emilie Glen (1906-1995) was best known as a poet, but she started her writing career in fiction, first published in H.L. Mencken's The American Mercury, The Prairie Schooner, and other magazines. In these nineteen short stories, Glen presents a portrait of mid-20th century America, using penetrating character portraits to show a world already nearly-gone, its customs and manners as odd to some of us as those of an Amazonian people.
A keen observer of manners and of the human drama, Emilie Glen centers sometimes on family: a high-stakes croquet game among heirs, the prize a Bermuda resort hotel; a mother and daughter competing for the same man; an Irish mother and daughter trapped in poverty in Hell's Kitchen, each wanting "the best"; and a wealthy matron in the Hamptons desperate to stop her son from marrying a Latina girl.
From a time when religion ruled the heartland, Glen writes about a town struggling with the worst preacher ever; a minister fired for his liberal values during the McCarthy era; and a woman forced to choose between becoming a minister's wife, or being ordained herself to take over her father's church.
Other stories are wonderful character portraits: a country woman whose life is changed when she comes into possession of the Encyclopaedia Britannica; a bored office worker with a secret hobby of purse-snatching; a businessman who would rather be a street beggar; the man determined to be top of the pecking order among the Central Park bird-watchers; a young girl who will do anything to get her first ballet shoes; a dancer locked in a fierce rivalry and obsession over a Siamese cat; a husband and wife living off the earnings of a child model; an industrialist whose entire existence is defined by ladies' feet; and a sad-sack song-writer knocking on the doors of music publishers.
This volume also includes "From This Window," Glen's experiment in prose poetry, which appared in New Directions in 1953. One story, "Cup of Gold," was edited and completed from a first-draft manuscript. Only two of the nineteen stories existed in manuscript.
The 222nd publication of The Poet's Press. ISBN 0-922558-82-5. 6 x 9 inches, 196 pages. $16.95. To order this book from Amazon, CLICK BELOW. Or, purchase the PDF ebook for $2.00.
Buy Ebook Now
---

THE WRITINGS OF EMILIE GLEN 1: POEMS FROM CHAPBOOKS (2016 2nd printing)

Emilie Glen (1906-1995) was a staggeringly prolific New York City-based poet, wh0se published work spans five decades with thousands of little magazine and newspaper credits worldwide. Glen's long-time friend and publisher Brett Rutherford has assembled the complete text of all the poet's chapbooks, including hand-bound mimeograph productions from her Greenwich Village coffeehouse days. From the 1960s through the early 1990s, Glen was also famed for hosting the longest-running poetry salon in Manhattan, so some of the eccentrics of the New York poetry scene also make an appearance in the editor's foreword, which includes both a description of the West Village poetry scene of that time, as well as everything we are likely to know about Emilie Glen's early life.
First recognized by H.L. Mencken and published in his American Mercury, she started as a fiction writer and then gravitated to narrative poetry, writing and publishing thousands of poems in magazines around the world. In this first volume of Glen's writings, the editor has gathered the texts of more than 300 poems — all the chapbooks Glen published from her coffeehouse days through her last years: 77 Barrow Street, Mad Hatter, Coffee House Poems, Paint and Turpentine, Dark of Earth, Late to the Kitchen, Up to Us Chickens, Twat Shot, Glenda's Ark, Roast Swan, Hope of Amethyst, Rails Away, and Glenda and Her Guitar, Emilie and Her Piano. This includes the full text of all her Poet's Press chapbooks and books as well as early self-published leaflets and productions from several other presses.
The poems gathered here are a narrative saga of New York high and low, as well as a poignant saga of family sorrows. The best of them are intimate character portraits, short stories compressed into a dramatic, reader-friendly style, poetry the untrained reader need not fear. A keen observer of nature as well as of humanity, Glen delights with her informed short poems on cats, birds, and the occasional mermaid; she is just as much a naturalist in describing life among the tormented actors and actresses in an off-off-Broadway nude theater company. A strong musical thread runs through this collection as well: Glen was a child prodigy pianist and came to New York City to study at The Juilliard School before the poetry Muse asserted her primacy, so Glen's Manhattan is an island of pianos, guitars, harps and orchestras.
This important series belongs in every collection of 20th century American poetry. With cover art by American wood engraver John DePol.
Second printing, 2016, including cover art for many of the chapbooks. Paperback ISBN 0-922558-68-1. 330 pp., 6 x 9 inches $19.95. Click below to order from AMAZON. Or, purchase the PDF ebook for $4.00.

You can read Brett Rutherford's biographical essay HERE.
Buy Ebook Now
---
JACQUELINE de WEEVER. TRAILING THE SUN'S SWEAT.
This book is a retracing of landscape, heritage and culture, spanning continents and time. Interspersed with quotations from Columbus's journal, de Weever recounts and visits her native British Guiana as seen by its conquerors and ravishers, and by its survivors. Rich with the flora and fauna of island and Amazon, the book poses native against the encounter with the native. The eyes of the caiman look out from the waters, while the visiting European artist paints delicate watercolors of butterflies and lush tropical plants. Some of the poems inhabit the oppressed within our northern borders, such as Tituba, accused witch of Salem, or the lynched Native American Jacqueline Peters. In retracing her own heritage and origins, de Weever invites us to confront the beauty, and violence, of the hemisphere we share.
Jacqueline de Weever, born in Georgetown, British Guiana (now Guyana) was educated there and in New York, earning a Ph.D. at the University of Pennsylvania. She is Professor Emerita at Brooklyn College, City University of New York, where she taught English Medieval Literature for 29 years.
ISBN 0-922558-77-9. The 210th publication of The Poet's Press. 6x9" paperback, 80 pages. $12.95. To order from Amazon, CLICK BELOW.
Buy PDF Ebook Now
---
JACK VEASEY. THE DANCE THAT BEGINS AND BEGINS: SELECTED POEMS 1973-2013.
Pennsylvania poet Jack Veasey (1955-2016) has here selected from four decades of his writing, an intense and affecting summation of his poetry so far. Complementing his 2013 collection of more formal poems, this wide-ranging volume thrusts the reader into the inherent sense that every poet has, from childhood, of "not being like the others." As a gay poet and journalist living through the tumultuous decades of gay liberation and beyond, Veasey shows how, in so many ways, understanding is not yet won. Yet there are many small triumphs in the gorgeous language and the poems' arrived-at wisdom. Ian Young writes: "The publication of The Dance That Begins and Begins, Jack Veasey's twelfth book, should signal his recognition as one of America's best poets. Veasey never stands apart to poeticize, but is walways right there in the thick of things, vulnerable, compassionate, and strong. Adept, accessible, utterly authentic, these poems have heart, soul, moral authority, and the quiet assurance of a major poet at the height of his powers."
A 2010 nominee for a Pushcart Prize, Jack Veasey was a Philadelphia native who lived in Hummelstown, PA for over 20 years. He was the author of eleven previous published collections of poetry, most recently Shapely: Selected Formal Poems (2013). His poems have also appeared in many periodicals including Christopher Street, The Pittsburgh Quarterly, Assaracus, Harbinger: A Journal of Social Ecology, The Philadelphia Daily News, The Painted Bride Quarterly, Fledgling Rag, Oxalis, The Blue Guitar, Bone and Flesh, Zone: A Feminist Journal for Women and Men, Film Library Quarterly (Museum of Modern Art, NYC), Experimental Forest, Tabula Rasa, Wild Onions, Mouth of the Dragon, Asphodel, Insight, The Irish Edition, The Harrisburg Patriot-News, The Harrisburg Review, The Princeton Spectrum, The Little Word Machine (U.K.), and The Body Politic (Canada), among others. His poems have also appeared in a number of anthologies. Veasey spent the seventies and eighties working as a journalist for such publications as The Philadelphia Inquirer, Philadelphia Magazine, Pennsylvania Magazine, APPRISE, The Philadelphia City Paper, and The Cherry Hill Courier Post, and editing a number of periodicals in Philadelphia and New York, including The South St. Star, The Philadelphia Gay News, and FirstHand Magazine. His articles for the Philadelphia Gay News won two awards from the national Lesbian and Gay Press Association. His first poetry chapbook, Handful of Hair, was published by The Poet's Press in 1975. Veasey left a final manuscript of poems with The Poet's Press, which will be published in Spring 2017.
ISBN 0-92255878-7. The 211th publication of The Poet's Press. 6x9" paperback, 226 pages. $14.95. To order from Amazon, CLICK BELOW.
Buy PDF Ebook Now
---
VINCENT SPINA. DIALOGUE.
Poet Vincent Spina has lived most of his life between two continents: North and South America. As one would suspect, therefore, there is a degree of "Spanglish" not only in the language of these poems but in the allusions to South American poets: namely, Cesar Vallejo and Pablo Neruda, but mostly Vallejo, much of whose poetry borders the line of what is possible to express in words and the inexpressible that waits just beyond. Juan Ramón Jiménez, a Spanish poet, asked in his poetry for the name of things (el nombre exacto de las cosas). And this exact name, the one we may never pronounce, is what Spina alludes to in these poems: the long name of things, the name that is born with us at our birth and grows as we grow and dies with us when we die. This is the name that defines us or indentifies us at our essence — if there is an essence. There is another continent involved in these poems, too: Italy, the country of the poet's grandparents, which he visited while working on this book. As Spina elaborates: "I grew up with ways of thinking that were not 'wholly' American but rather had leaked into my consciousness — perhaps my conscience — through other sources. The last part of the book deals with other sources and their meanings. For instance, the tarantella is not the folksy stereotypical dance with which an Italian American wedding ends. Its rhythm is hypnotic. Its purpose is to put the dancers into a trance in which rituals of life and death are reenacted: moments of love, of passion, of honor. Its name refers to a tarantula — really a large spider — because within the trance the dancers thrash around their arms and legs like those of a frenzied spider. Thus, my aim was to "de-stereotype" the dance and "reveal" its original "mystery". Heidegger writes that for the Greeks, truth was revelation. Thus I wished in these poems to unveil certain truths about my people and about myself."
Vincent Spina was born in Brooklyn, New York. He received his Ph.D. from New York University in Latin American and Brazilian Literature, and is a Professor Emeritus of Modern Languages and Cultures at Clarion University, PA. His poems have appeared in various magazines over the years, and his first book of poetry, Outer Borough, was published in 2008. He is also the author of El Modo Epico en José María Arguedas, a study of the Peruvian author's novels and their basis in the cosmology of the Andean people of Peru. His articles on Latin American writers have appeared in various magazines and anthologies.
ISBN 0-922558-79-5. The 212th publication of The Poet's Press. 6x9" paperback, 90 pages. $12.95. To order from Amazon, CLICK BELOW.
Buy PDF Ebook Now
---
BRETT RUTHERFORD. TRILOBITE LOVE SONG.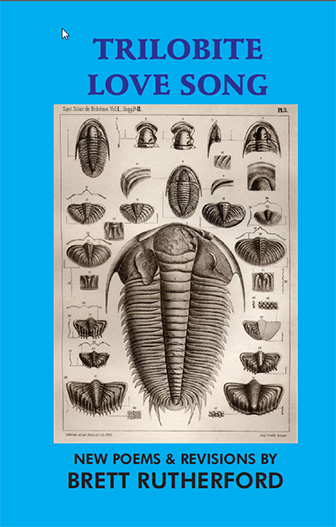 This book is Brett Rutherford's farewell to his adopted city, Providence, where he lived most of the years between 1985 and 2015, with intervals away at Boston, New York, and Northern New Jersey. It is also his farewell to H.P.Lovecraft fandom, with two biting poems, "The Special Ward at Butler Hospital" and "On the Island of Pohnpei," the latter about a sinister hookah bar in the South Pacific that becomes the center of Lovecraft tourism. This small but lethal book also contains two powerful narrative poems about women at two ends of the power spectrum: a schoolgirl in colonial New England falls prey to a vicious schoolmaster in "Hoxie House," while "Young Girl's Prayer to Eos, At Corinth" is a whole new twist on the power some women have for magic and revenge, if they choose to use it. "What She Was Like" is a Hitchcockian mother portrait from Pennsylvania that could just as well have come from Salem. Translations and adaptations in this slender volume include four poems adapted from the Chinese poet Li Yu, doomed last Emperor of Southern Tang, and an adaptation of Pushkin's supernatural poem, "The Demons." The title poem is an attempt to enter into the psyche and society of those extinct masters of the world, the Trilobites. These new poems and revisions are from 2013-2014.
ISBN 0-922558-76-0. The 209th publication of The Poet's Press. 6x9" paperback, 56 pages. $8.95. To order from Amazon, CLICK BELOW. Or, purchase the ebook for $2.00.
Buy Now
---
BORIA SAX. ANIMALS IN THE THIRD REICH.
Second edition, revised and expanded. Reviewers' notes from the first edition of 2000:
"In Animals in the Third Reich, Boria Sax explores an aspect of Nazi ideology and policy that, to my knowledge, no one has seriously studied until now: the Nazi relationship to animals, both as mythic figures and as actual living creatures. I had come across references to Hitler's fixation on wolves in his biographies, but the authors offered no context for this fixation and tended to treat it as yet another idiosyncratic symptom of mental illness. In Sax's book, I learned for the first time the central role that animals, especially predatory animals played in the Nazi worldview, and how this colored their perception of Jews as 'pigs' and 'dogs.' This is an utterly fascinating work, enriched by Sax's wide-ranging erudition, and sure to intrigue ordinary readers, as well as inspiring scholars for years to come." — Barbara Ehrenreich

"Rarely does a book contribute to two fields so significantly as this one. Sax, an independent scholar and consultant to various human rights organizations, has written the first book to explore thoroughly the Nazi cult of animals. In a way, this book reads like a mystery novel, as it uncovers some of the chief paradoxes of Nazi ideology. The Nazis promoted vegetarianism and passed the most progressive anticruelty laws the world has ever known. Yet they also developed a mystical technocracy that reduced morality to the crudest version of a biological struggle for survival. They used images of animals to vilify their enemies (especially, of course, the Jews) and add to their own mystique (the SS were portrayed as predator animals). Sax is especially insightful about the subtle ways that the Nazis parodied and plundered Christian theology. This book is a must for all collections in German history and in animal rights. It is a deep and profound reflection on the complex and perplexing ways that animals can shape human culture and politics. — S. H. Webb, Wabash College, in Choice.

Sax's book contains a great deal of food for thought, and helps us see both the banalities and the atrocities from this era in new and revealing lights. There is a great deal of material on the symbolism of blood, and some intriguing discussion of ritual animal sacrifice. Nazi regulations of how animals should and should not be slaughtered also come into focus ... Konrad Lorenz is sharply and appropriately criticized, both for his tacit endorsement of certain forms of political predation (recall that he joined the Nazi party in 1938) and his Nazi-sympathizing view that "for us, race and ethnicity are everything, the individual human being as good as nothing." The book should be of interest to anyone seeking to understand either the larger context of the Holocaust or the history of animal protection and abuse; one can also hope that books like this will help provoke further examination of the intertwined histories of the brutalization of humans and the treatment of animals as unfeeling objects. — Robert N. Proctor, Pennsylvania State University, in Anthrozoos.
234 pp., illustrated. 6 x 9 inches, paperback. ISBN 0-922558-70-1 $16.95. CLICK BELOW TO ORDER FROM AMAZON.
Buy PDF Ebook Now
---

BRETT RUTHERFORD. DOCTOR JONES AND OTHER TERRORS.
This full-color chapbook, now in its second printing, combines two terrifying poems about "Dr. Jones," a perhaps-imaginary, perhaps-real mad surgeon whose speciality is cutting off arms and legs from young boys in rural Pennsylvania. Rutherford here presents a disturbing sequel to an already-disturbing childhood recovered memory. In "Torrance," the links between Doctor Jones and Western Pennsylvania's legendary, dreaded state mental hospital are revealed. Color digital art reveals Dr. Jones' vintage car, his medical kits, and images of the present-day ruins of the state hospital, where ordinary mental patients were mixed with the criminally insane.
32 pp., 8.25 x 6 inches, paperback, ISBN 0-922558-75-2. $7.98. CLICK HERE TO ORDER FROM AMAZON.
Buy PDf Ebook Now
---
FULL-COLOR EDITION OF A POET'S PRESS CLASSIC

JOEL ALLEGRETTI. THE PLAGUE PSALMS.
First published in the year 2000 in a hand-bound edition, The Plague Psalms presents a neo-Romantic vision worthy of Baudelaire and Poe: a world haunted by Moorish Spain, the Inquisition, the Black Death, Erik (the Phantom of the Opera), the music of the Oud, and other subjects penitential and pestilential. The book design incorporates wood engravings by Albrecht Durer. This new third edition recreates all the color content of the original.
Joel Allegretti is also the author of three other collections of poetry: Europa/Nippon/New York: Poems/Not-Poems (Poets Wear Prada, 2012); Thrum (Poets Wear Prada, 2010); and Father Silicon (The Poet's Press, 2006). Allegretti's poems have appeared in The New York Quarterly, MARGIE, Fulcrum, Voices in Italian Americana, Sentence: A Journal of Prose Poetics, Xcp Cross-Cultural Poetics and many other national journals, as well as in The Best American Poetry blog.
98 pp., with color titles and ornaments. 6 x 9 inches, paperback, ISBN 0-922558-74-4. CLICK BELOW TO ORDER NOW FROM AMAZON.
Buy PDF Ebook Now
---
JACK VEASEY. SHAPELY: SELECTED FORMAL POEMS.
Jack Veasey (1955-2016) was a provocative voice in modern American poetry since his teens. He started giving readings and publishing his poems in Philadelphia, New York, and Boston in the early 1970s. Since then he has published ten collections of poems. He read the title poem from his best-known book, Quitting Time (Warm Spring Press) on a segment of NPR's "All Things Considered" originating from Southwest Missouri State University. The poem, a plain-spoken free verse monologue about the moment one quits a demeaning job, remained his signature poem and established his reputation as chronicler of urban working class life. As Jim Ruth, venerable art critic in Veasey's adopted region of central PA, put it in the Lancaster Sunday News, "Jack Veasey's poems pack the appeal — and sting — of universality. Veasey speaks with the clarity and directness of an Everyman. . . . a passionate poet of the people." Mike Gunderloy, in the national small press review FactSheet Five, described his poems as "blunt, cutting narratives that make you wonder how we can possibly accept things as they are."
Veasey has applied that same directness to chronicling the struggles of gay people. His poems and nonfiction have appeared in many major gay periodicals and anthologies, and he served as editor of The Philadelphia Gay News and FirstHand: Experiences for Loving Men. His articles for The Philadelphia Gay News won that publication two awards from the National Lesbian and Gay Press Association. He also wrote about gay issues for The Philadelphia Inquirer, and his articles about Walt Whitman's gay life have been nationally syndicated by the Gay History Project.
This eleventh collection spotlights a lesser-known aspect of his work. In the early 1980s Veasey began to write sonnets and other poems in fixed forms. To his surprise, it proved ideal for exploring a far greater range of subjects; some that had been "too big to tackle" — or even to face. "It pulled things out of me," he said, "Sometimes I'd articulate something in a form and then realize, 'My God, I never knew I saw it that way.' Forms are a great way to distract your conscious mind from censoring your content."
Shapely: Selected Formal Poems gathers the best of these revelatory poems from three decades into a powerful, vivid, insightful, and masterfully crafted collection. The substantial section of sonnets at the book's heart is especially impressive and varied. Some are hilarious, some dark and disturbing, some poignant and touching: all have a clarity and striking musicality not found much in contemporary poetry. Jack Veasey died suddenly in July, 2016, leaving this as his next-to-last poetry collection. His final book will be published by The Poet's Press in Spring 2017.
ISBN 0-922558-73-6. Published May 2013. 6x9" paperback, 132 pages. $12.95. To order from Amazon, CLICK BELOW. Or, purchase the PDF ebook for $2.00.
Buy Ebook Now
---
BRETT RUTHERFORD. AN EXPECTATION OF PRESENCES.
Here is Brett Rutherford's first new compendium of poems in seven years. Following on The Gods As They Are On Their Planets (2005) and Poems from Providence (1991), this book is a must for fans of this neo-Romantic American poet.
The 94 new poems and revisions in this collection range from a dark-shadowed childhood in the coal and coke region of Western Pennsylvania, to New York City and Providence, Rhode Island. The jolting sequence titled "Out Home" is a poetic memoir of broken families and childhood terrors, and the imminent threat of kidnapping and mutilation by "Doctor Jones," a crazed surgeon who roams the countryside in a sinister roadster. The small boy of these poems is already a self-styled outsider, defining his difference from the crushing environment around him.
In "Past the Millennium" and "Ars Poetica," the full-grown poet soars, with politically-charged poems on Solzhenitsyn, the self-immolation of Czech martyr Jan Palach, and the imagined overtaking of Bush and Cheney by "The Black Huntsman." Rutherford walks in Poe's footsteps on a Hudson River pier, visits ancient Rome for a chat with the lawgiving King Numa Pompilius, and puts Poe to work tracking down a cemetery spectre in 1848 Providence. Two historic verse plays give voice to the mad Carlota, Empress of Mexico, and two Austrian policemen with an unexpected prisoner on their hands.
Humor abounds in this volume, too, from the possessed sex toys in "A Night in Eddie's Apartment," skeptical Martians refusing to believe there's life on Earth, nine-year-old Dante meeting Beatrice in Providence's Federal Hill, and a surrealist adventure across Europe as a lost sock-puppet searches for its owner, meeting Sigmund Freud along the way.
A sequence of poems on Love and Eros titled "Love Spells" plumbs the depths of desire and obsession, and presents several powerful elegies, culminating with the poignant "The Loft on Fourteenth Street." The erotic poems, some set in Ancient Greece and some in the present, are frank and often amusing, perhaps some comfort for those who think the fun ends at thirty.
Ending the book is a clump of supernatural poems, as expected from this heir of Poe and Lovecraft: a story-length poem, "Dawn," presents the ennui of a 300-year-old vampire; the birth and education of the feared witch Keziah Mason; wind elementals attack the headquarters of Bain Capital in Boston; and Elder Gods arrive to make humans their playthings.
An Expectation of Presences is a wide-ranging and startling collection, romantic, defiant, and bracingly hopeful.
ISBN 0-922558-69-8. 364 pp. 6 x 9, paperback. Published July 2012. $19.95. CLICK BELOW TO ORDER FROM AMAZON. Or, purchase the PDF ebook for $4.00.
Buy Ebook Now
---
DON WASHBURN. THE BOY FROM UNDER THE TREES.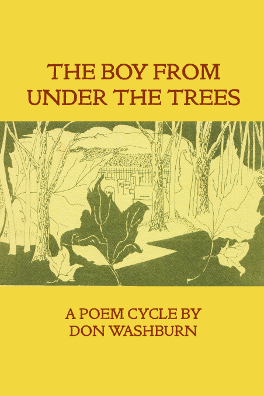 The Boy from Under The Trees, first published in a limited-edition volume in 1982, is Don Washburn's lyric poetry cycle — 128 poems in 16 sections — distilling the essence of childhood and youth in a town in Eastern Pennsylvania in the 1940s. The poet recalls "As a kid, I was allowed to have the run of my neighborhood. With that freedom, came the excitement of exploration and the joy of discovery. I was left with many memories, moments that still have a special power. The poems are in an eight-line rhyming verse form called the rispetto. They sum up what I still keep from these beginnings. I now realize that under the trees of my boyhood I first heard the other-worldly music that was to become a lifelong companion. " Inevitable as comparisons to Ray Bradbury's fictional Ohio of the same era might be, Washburn's Pennsylvania is tougher — an ethnically mixed, blue-collar city on the Delaware river — less sentimental, yet full of poignant nature impressions and character portraits. The boy and young man of these poems would go on to college, then spend a lifetime as a teacher — yet during all this, the treeline of his exploration continued to expand, to the Berkshires where he has resided for many decades, and, spiritually to Sufism and other quests for the eternal and ineffable. Washburn's poetry is prescient of a consciousness eager to expand, and the skill with which he employs his verse form includes an almost effortless, colloquial use of rhyme and rhythm, which sometimes includes a teasing line break in mid-word to induce a rhyme. It is a privilege to bring this delightful poem cycle into a new edition for the 21st century. Published June 2012. ISBN 0-922558-66-3,   108 pp 6 x 9, $12.95. CLICK BELOW to order from Amazon.
Buy PDF Ebook Now
---
BRETT RUTHERFORD. WHIPPOORWILL ROAD: THE SUPERNATURAL POEMS (Expanded and Revised 5th Edition).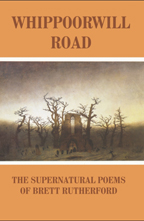 This is the expanded fifth edition of Brett Rutherford's landmark poetry collection, Whippoorwill Road: The Supernatural Poetry. This extraordinary 360-page paperback contains all the poet's supernatural poems, including major new poems added since the last edition. Praised by Robert Bloch and Ray Bradbury, these may be the best supernatural poems of our time. The writing ranks from the seriously Gothic through the downright hilarious, including Gorgons, Egyptian mummies, Lovecraftian horrors, vampires, werewolves, possessed sex toys and stuffed animals, and the personal recollections of Fritz, the hunchback assistant of Dr. Frankenstein. All of Rutherford's Lovecraft-related poems are collected in this volume -- more than 100 pages of Lovecratian items including all the poems written for the annual ceremonies at HPL's gravesite in Providence. Other major new items in this collection include the vampire narrative poem "Dawn," and "Lucy: A Verse Mystery," which pits Edgar Allan Poe against "The Spectre of St. John's Churchyard."
Fifth edition, revised and expanded 2012. 360 pp., 6x9. ISBN 0-922558-67-1. To order the print edition for $19.95 from Amazon, CLICK BELOW. Or, purchase the PDF ebook for $5.00 .

Buy Ebook Now
---
BOTH VOLUMES NOW AVAILABLE!!
THE 1801 BOOK THAT LAUNCHED THE GOTHIC-ROMANTIC POETRY MOVEMENT: A SCHOLAR'S DELIGHT IN ITS ONLY COMPLETE, ANNOTATED EDITION . . .

MATTHEW GREGORY LEWIS. TALES OF WONDER, VOLUME 1. Edited and annotated by Brett Rutherford. Never reprinted in its original form since its 1805 second edition, and never before presented in full in an annotated, scholarly edition, Tales of Wonder is a landmark in Gothic literature and Romantic poetry. Here we are treated to a ghost/vampire tale first penned around 300 BCE; a Runic funeral song from the tenth century CE; a meeting between the Saxon invader of England and a Roman ghost; a Nordic warrior woman's incantation to raise her father from the dead; Goethe's blood-curdling multi-voiced "Erl-King" and fatal water nymphs; the monk and nun who try (unsuccessfully) to save their witch mother from the Devil; a proud painter's encounters with Satan; a doomed romance set in the horrific landscape of the War of the Spanish Succession; and the cursed forest ride of "The Wild Huntsmen."
This edition, annotated by Brett Rutherford, traces the literary origins of the poems and the stories behind them, connecting them to the long line of eccentric antiquarian scholars who collected classical, Runic, English and Scottish manuscripts or folk material. The poems here also reveal the late-18th century British project of constructing a pagan pre-history for England, building a poetic connection to Nordic legends and bringing Wotan/Odin and the gods, monsters and fairies of the forest into competition with Biblical and Greco-Roman lore. This volume includes early poems by Sir Walter Scott and Robert Southey, as well as poems by M.G. Lewis, Goethe, Herder, Bürger, Mickle, Bunbury, and Leyden. The originals of these poems and ballads are from Greek, Latin, Icelandic, Danish and German, as well as English and Scottish supernatural ballads.
For the poetry lover, and the fan of supernatural literature, this collection offers a year-round Halloween treat of entertaining and alarming poems to read aloud ... bedtime stories for very bad children. A Yogh & Thorn Book. Published October 2010; revised, corrected version published March 2012 to coordinate with the release of Volume II (see below). Paperback ISBN 0-922558-61-2. 245 pp., 6 x 9. $16.95. CLICK BELOW to order from AMAZON. Or, purchase the PDF ebook for $5.00.
Buy Ebook Now
MATTHEW GREGORY LEWIS. TALES OF WONDER, VOLUME 2. Edited and annotated by Brett Rutherford. This second volume continues the mayhem with Ben Jonson's song for 13 witches, a clutch of famous Scottish ghost ballads, a journey to an Irish cave that opens into Purgatory, a Russian prince's date with Death after 300 years of bliss in the Land of Felicity, the dangers of lingering at Tam Lin's well, the mysterious death of King Arthur, and the most terrifying horseback ride in all literature, Bürger's "Lenora." Information about the poets, source texts and alternative versions enrich the reader's experience of these thrilling Gothic narratives in verse. Poets include Robert Burns ("Tam O'Shanter" with 187 annotations!), Ben Jonson, Richard Glover, David Mallet, Thomas Parnell, John Dryden, Thomas Lisle, Thomas Gray, Thomas Percy, Robert Southey, M.G. Lewis, Robert Lambe, and William Taylor of Norwich. The book includes more than 500 informative annotations, maps, illustrations, and an extensive bibliography. No other edition of Tales of Wonder contains these additional materials. A Poet's Press/ Yogh & Thorn Book. Published March 2012. Paperback ISBN 0-922558-62-0. 294 pp., 6 x 9, $16.95. CLICK BELOW TO ORDER FROM AMAZON. Or, purchase the PDF ebook for $5.00.
Buy Ebook Now
---
BRETT RUTHERFORD. POEMS FROM PROVIDENCE: 20TH ANNIVERSARY EDITION.
Poems from Providence, a huge compendium of all the poems Rutherford created during his first years in Providence, Rhode Island (1985-88), was published in 1991. This great blossoming of neo-Romantic work was inspired by a change of locale to New England, by H.P. Lovecraft, and a deep immersion in the classical world, yielding the long "Ganymede" cycle, a prequel to The Iliad. Other memorable works in this paperback are "The Outsider," an elegy for Barbara A. Holland, Treblinka's "Ivan the Terrible," "The God's Eye: A Summer Diary" tracing a return to native haunts in Pennsylvania, the cat memorial poems to Thunderpuss, and the first appearance of the now-famous poem, "At Lovecraft's Grave." Illustrated with line-drawings by Pieter Vanderbeck.
To commemorate the 20th Anniversary of this volume, the poet has revised a number of the poems, and added six poems that are centered in or around Providence, including new Lovecraft poems and the Poe Providence mystery narrative poem, "Lucy."
Published July 31, 2011. 260 pp., 6x9 inches, paperback. ISBN 0-922558-58-2. $16.95. CLICK BELOW to order the print edition from Amazon. Or, purchase the PDF ebook for $3.00.
Buy Ebook Now
---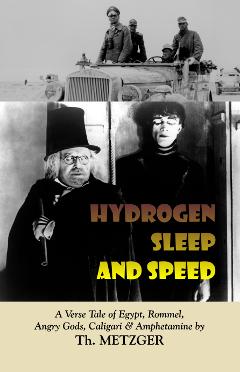 HYDROGEN SLEEP AND SPEED. A Verse Tale of Rommel, Egypt, Angry Gods, Dr. Caligari and Amphetamines by Th. METZGER. From the author of the startling novel Shock Totem, and underground classic poems like "Devil in a Dead Man's Underwear" comes what promises to be the weirdest book ever published by The Poet's Press (excepting perhaps Hakim Bey's landmark chapbook Chaos). This riveting poem cycle mines little-known aspects of World War II history into a melange of African invasions, angry Egyptian gods, rampant Mormon warriors, and the lord of sleepwalkers, Dr. Caligari, presiding over the Nazi obsession with not sleeping, ever, until the ultimate triumph (hence, the advent of mass-produced amphetamines). Brett Rutherford has illustrated this book with digital-art montages from The Egyptian Book of the Dead, Mormon histories, silent film stills and other historical sources (even Zeppelins bombing American truck stops). Published April 2011. ISBN 0-922558-57-4. 6 x 9, paperback, $16.95.
CLICK BELOW TO ORDER FROM AMAZON.
Buy PDF Ebook Now
---
BRETT RUTHERFORD's ANNIVERSARIUS: THE BOOK OF AUTUMN. 4TH EXPANDED EDITION
PLUS NEW DELUXE COLOR EDITION.
Now in its fourth edition and vastly expanded, Anniversarius: The Book of Autumn is Brett Rutherford's 40-poem epic cycle of autumn-themed poems. Although there is plenty of Shelley, Poe, and Bradbury here in the celebration of "autumn's being," this cycle encompasses works that are mythic, metaphysical, political, satirical and, of course, supernatural.
Autumn becomes the landscape for Jan Palach's suicide in Soviet-invaded Czechoslovakia in 1969; for translations of Pushkin and Hugo; and for rhapsodic and moody invocations of fall in Western Pennsylvania (the poet's birthplace) and haunted New England (his adopted home). Greek myth comes in by way of a hymn to Rhea, the Oak Tree Goddess, an encounter with three oak nymphs, and a dinner party in Hades.
Rutherford walks in the footsteps of Poe in New York City, and sets two other powerful poems in Manhattan: one a panorama of historic Madison Square Park, and a troubled visit in the aftermath of 9/11.
Influenced by Poe, Shelley, Whitman, Jeffers, Hugo, Bradbury, and Greek classics, these poems present a cosmos tinged with autumnal sadness, yet they are brave with the delight in a life fully relished down to the last falling leaf. Although solitude and loss stalk through these pages, there are also poems expressing a defiant, transcendent spirit. Each of the two "Rings" of the work ends with powerful affirmation. The locales of the latest poems include New York, Providence, rural Pennsylvania, the planets Mars and Pluto, and Ming Dynasty China.
This book is meant to be relished slowly, to be read aloud and savored for music as well as meaning. Each poem stands alone as an "anniversary," yet the cycle as a whole is Romantic in sweep, its structure like that of two successive long symphonies.
This landmark of autumnal poetry is available for free download in PDF format.
ISBN 0-922558-71-X   4th edition, revised and expanded, February 2013.    170 pp., $24.95. Deluxe color edition replaces the previous black-and-white version: same as the standard edition above, but with all photos and illustrations in full color. CLICK BELOW to order the print edition from Amazon. Or, purchase the PDF ebook in glorious color for $5.00.
Buy Ebook Now
---
THE COLLECTED POEMS OF MOIRA BAILIS
THE COLLECTED POEMS OF MOIRA BAILIS. David Messineo, ed.
A TRANSCONTINENTAL PERSPECTIVE ... Poet Moira Bailis (1921-2013) began writing poetry before the age of twenty in her native Ireland. Like many poets who write for the love of the art, she did not begin publishing her work extensively until later in life. Since the 1980s, she has had over 200 poetry publication credits, both in the United States and Ireland, and has authored one poetry chapbook, poems (2003). The brink of her tenth decade of life saw her still engaged in her art.
Bailis lived in Ireland, Germany, Austria, Italy, New York City, and finally, in Fort Lee, New Jersey (her home since 1966). Her poems encompass her life's journey as well as her broad literary interests, social awareness, and activism. A lover and advocate of poetry, she taught workshops, and lectured live and on radio about poetry, poets, and writers.
David Messineo, Bailis's friend and long-time publisher, in cooperation with the poet and her family, has assembled 450 of her collected poems into two volumes. Ireland figures large in both — a home place many times revisited over a long life, its landmarks, Celtic history, and political troubles recalled.
This first volume, The Antidote to Prejudice, is arranged geographically, reflecting the places Bailis lived in or visited (or imagined, in the case of South America, Africa and Antarctica). Ireland and New Jersey bookend this varied collection of 190 poems. The section, "To Ireland in the Fading Times," could stand as the poet's missive to the land of her birth. In the editor's words, these poems "are dually interesting from the standpoints of poetic craft and the capturing of history."
Many other poems in Volume I center on nature and landscape — those especially gleaned from her long walks and hikes exploring Northern New Jersey — and they mark her as a keen word-water-colorist of bird, tree and season.
The second volume, It Has To Do With Seeing, has 260 poems, including some variant texts (edited by Melanie A. Pimont), and more than 80 poems concerning the poet's Irish childhood, family and friends. Poems touching on the literary life, and on writers such as Austen, Emily Brontë, Sandburg, Thoreau, Brodsky, Merrill, Williams, Frost and Dickinson are all here. Poems of nature, season, and landscape abound as well. "Closing Remarks," a fine cluster of reflective pieces, is in the tradition of Whitman's ever-extended "Next-to-Last Thoughts."
This intriguing poet, with a transcontinental perspective on the tumults of modern life and the consolations of the solitary commune with nature, bequeaths us more than eight decades of her life and thought in this two-volume set. Her many poetic friends, and readers on both sides of the Atlantic pond, can delight in this restrained and thoughtful production.
Moira Bailis. The Antidote to Prejudice: The Collected Poems of Moira Bailis, Volume 1. 6x9 inches, 272 pages. Paperback ISBN 0-922558-52-3, $17.95. CLICK BELOW TO ORDER FROM AMAZON. Or, purchase the PDF ebook for $3.00.
Buy Ebook Now
Moira Bailis. It Has To Do With Seeing: The Collected Poems of Moira Bailis, Volume 2. 6x9 inches, 328 pages. Paperback ISBN 0-922558-54-X, $18.95. CLICK BELOW TO ORDER FROM AMAZON. Or, purchase the PDF ebook for $3.00.
Buy Ebook Now
---
BORIA SAX. THE RAVEN AND THE SUN. Boria Sax, steeped in animal studies in myth and literature, is not only a teacher and scholar, but also one of our finest lyric poets. This collection of poems and tales, centered around the mysterious world of crows and ravens that exists around us almost unnoticed, demonstrates the universality of the narratives in which animal wisdom plays, as he retells Eastern European and Native American crow/raven tales. The book is also interspersed with Sax's sensitive lyrics on other topics. Includes two "crow wheel" illustrations by Tom Fitzpatrick.
ISBN 0-922558-43-4. Published July, 2010. 6 x 9, paperback. 82 pp. $13.95. CLICK BELOW TO ORDER FROM AMAZON.
Buy PDF Ebook Now
---
BEYOND THE RIFT: POETS OF THE PALISADES. Paul Nash, senior editor. A decade of poets featured at the North Jersey Literary Series, the liveliest poetry venue on the wrong side of the Hudson. Shows the remarkable variety and quality of work being done outside the Manhattan poetry hive. Emerging from the Gothic-oriented literary and arts magazine, The Rift, founded by Alda Xavier, the series has introduced new poets, while also providing a venue for established poets to reach new audiences. These poets have broken free from the self-absorption of prior decades and reflect a commitment to narrative, to communication, and to the power of language as a well-aimed arrow. The work in this anthology helps make the case that the Muse has indeed flown to the provinces.
This anthology was edited by Paul Nash (shown above), Denise LaNeve, David Messineo, Susanna Rich, and John J. Trause. All poets in the volume were featured readers at the North Jersey Literary Series during the last decade. Poets included in the anthology are Dorothy Alexander, Joel Allegretti, Raphael Badagliacca, Caterina Belvedere, John Chorazy, Cathy Cimillo Cavallone, K. Elizabeth Costa, Aza Derman, Estrella Gabrie-Garcia, Davidson Garrett, Jonathan Hall, Patrick Hammer, Jr., George Harvilla, Josh Humphrey, Peter Jawarowski, Thomas D. Jones, Denise LaNeve, Richard Loranger, Roy Lucianna, Brant Lyon, David Messineo, Gene Myers, Paul Nash, Marianne Poloskey, S. Gili Post, Daniel Quinn, Jamie McNeely Quirk, Susanna Rich, Eddie Rivera, Denise Rue, C.D. Russell, Brett Rutherford, John Salacan, Joseph Andrew Sapia, S. Thomas Summers, John J. Trause, Doris Umbers, Galen Warden, and Donald Zirilli. Artwork was contributed by Roy Lucianna, Tom Fitzpatrick, Rebecca Pierson, and Galen Warden.
Published May 2010. 168 pp., 6x9" Paperback edition ISBN 0-922558-44-2 $16.95; hardcover edition ISBN 0-922558-45-0 $24.95. Download of PDF $5. CLICK BELOW TO ORDER PAPERBACK EDITION FROM AMAZON. To read a free PDF sampler of the anthology, CLICK HERE. Use button below to order the PDF ebook for $4.00.
Buy Ebook Now
---
JODY AZZOUNI. HEREAFTER LANDSCAPES.
As cheerful as Timon of Athens or Anacreon, philosopher-poet Jody Azzouni unleashes this cycle of aphoristic, terse and dark visions of the world after global warming, nuclear winter, pollution, mutation and plague have come and gone. There's no "rapture" to rescue us, just the hard light of a ruined world. Back in the Cold War, Bertrand Russell noted that the smartest thinkers were the most gloomy about the prospects for humankind, and this cycle inhabits that world of intellectual worry. And yet there is beauty in desolation, and every dystopian artwork, by depicting what might and must not come to pass, may serve as a warning. Hereafter Landscapes might be the butterfly that changes history by changing the hearts of a few — or it might be locked into a time capsule as a prime specimen of post-millennial gloom. However one takes this sombre and linguistically rich little book, it comes from a serious thinker, versed in myth, science and art. In keeping with the book's theme, we chose to decorate it with the paintings and engravings of the artist most associated with the terror of the Sublime: John Martin. Martin's vast murals terrified crowds in London, and his engravings of Paradise Lost and Biblical cataclysms gave nightmares to generations of Victorian schoolchildren.
Selected as one of the six best chapbooks of 2010 by Presa magazine: "The most ambitious production in this round-up, complete with beautifully printed cover art and illustrations from the paintings and engravings of John Martin . . . The poetry has a prophetic quality that reminds us of the apocalyptic writings of William Blake. Azzouni also deals with the big themes, unafraid of directly engaging the spectre of potential environmental & nuclear disaster. His work is didactic, but not in a bad way, since the issues raised are the very issues of human meaning and survival. "

Published March, 2010.
ISBN 0-922558-42-6. 56 pp., 9 x 7, full color, $19.95 paperback.
CLICK HERE to order the print edition of the book from the Lulu Bookstore.
---
IN THE EYE OF THE RED-TAILED HAWK: AN ESSAY ON LOVE. Don Washburn.
Love after 70? How about love, betrayal and the transcendent pursuit of yet another "Dark Lady" in literature? Washburn's sonnets, composed with amazing grace and fluency as a diary during his doomed romance, combines utterly modern language and a wry self-awareness with a classical ease. The reader is propelled into this taut narrative, nearly forgetting the formal rules and boundaries of the sonnet.
The poet's engagement with Sufi mysticism adds a special grace to the denouement of loss and abandonment. We are proud to publish this new landmark in the genre of the sonnet-cycle.
Published July, 2009.
ISBN 0-922558-40-X. 80 pp., $8.95 paperback. Click below to order from Amazon.
Buy PDF Ebook Now
For a sampler of Don Washburn's poetry, visit his Featured Poet page.
---
EXPANDED SECOND EDITION OF BRETT RUTHERFORD & PIETER VANDERBECK'S POEM CYCLE ON RUSSIA, EASTERN EUROPE, AND POST 9/11 VILLIANY...
Twilight of the Dictators, first published in 1992, gathered together poems written by Rutherford and Vanderbeck (unknown to one another) from the late 1960s through the fall of the Berlin Wall. Both poets felt a deep kinship with their fellow artists behind the Iron Curtain and had written about the invasion of Czechoslovakia; the Stalin terror and its effects on artists like Shostakovich; the dreariness and paranoia of life in East Germany; and the jubilation both poets felt as Communism collapsed upon itself in 1989. The book's shamelessly libertarian tone made it the most shunned book ever published by The Poet's Press. Events since then have prompted the poets to add more poems about bad behavior, East and West. As Rutherford writes in the afterword to the book:
This book was not "politically correct" when it was published in 1992 ... This new edition, published in the wake of the Balkan wars, 9/11, and the ascent of American fascism under Cheney and Bush, is again "politically incorrect." Our newer poems take on the Taliban, Serbian incendiary bombing of Bosnian libraries, and  the Cheney/Bush war machine. It was also an opportunity to reflect on ourselves as the Atom Bomb generation, and to debate whether, with global warming, we have finally reached a crisis that we cannot fix. In balance, this longer book is an equal opportunity offender of orthodoxy.
In this 136-page volume, illustrated with Vanderbeck's fiendishly sinister line drawings, the poets cover a vast landscape of political horrors, sometimes with an appropriate sense of outrage or despair, other times with satire or a withering, Gogolian irony. Events related here include Stalin's oppression of composer Dmitri Shostakovich; the suicide of Czech student Jan Palach; the arrest of the Treblinka prison guard named "Ivan the Terrible"; the beating of Romanian writers by athletes; daring escapes across the Berlin Wall; governmental grave robbing in Weimar; Communist bosses on the run; the fate of all those Stalin and Lenin statues; the Serbian destruction of the state library in Bosnia; the Taliban's dynamiting of Buddhas; and "wartime" impressions of the Cheney/Bush era.
Published May, 2009. 136 pp., oversize paperback, $14.95. ISBN 0-922558-39-6. CLICK BELOW to order from AMAZON. Or, purchase the PDF ebook for $2.00.
Buy Ebook Now
CLICK HERE to open HTML version of this book (free preview).
---

NEW EDITION. SHIRLEY POWELL'S OTHER ROOMS.
Shirley Powell is one of a small circle of poets who delighted and disturbed ed New York and other poetry centers in the 1970s and 1980s with a new romanticism that shed modernism with all its cynical baggage. Lyrical, supernatural, narrative, and deft in portrayal of characters, Powell's poems startled many with their freshness, and their sense of being narrated by a timeless voice.
She is a prairie twister of a poet. Her people and animals occupy a remembered world of small town and rural America, but they are real--they breathe, dream, bleed and die. Her ghosts and demons spring not from myth, but from your grandmother's rocking chair. This book selects 80 poems from the very best of Powell's passionate, spooky, romantic, and haunting poems. Other Rooms, first published as a hand-bound book in 1997, has been unavailable for some time, and we are delighted to bring it back into print. A Poet's Press Grim Reaper Book, $13.95. 6 x 9 paperback, 112 pp. ISBN 978-0-922558-36-0. This is the 179th publication of The Poet's Press.
CLICK BELOW to order from AMAZON.
Buy PDF Ebook Now
---
JODY AZZOUNI'S
THE LUST FOR BLUEPRINTS

Poets are expected to have, or imply, a philosophy in their writing. But when a philosopher threatens to write poetry, most readers head for the hills. This makes the debut book of philosopher-poet Jody Azzouni all the more astonishing. It dazzles and delights. Wry, sardonic, myth-infused, and precise as a scalpel blade, this 1999 collection revels in dark imagery and playful erudition. All the poems here were published in literary magazines, but some also appeared as postcard-sized "guerilla-publishing" pieces that found their way into New York City bookstores, sometimes even planted like wasp larvae inside books of other authors' work. To our delight, a cache of these books has turned up intact, surviving our many moves, as well as several floods and mildew plagues. This volume contains two digital art illustrations by Catherine Weaver, and concludes with Azzouni's challenging 20-page essay, "Numbered Paragraphs: An Essay on Esthetics." We're delighted to offer the ink-on-paper paperback again for direct orders for $12.95 each, plus $3.50 per order for packing and shipping. ISBN 0-922558-07-8. 96 pp., paperback.
To read a sampler of poems from this book in PDF, CLICK HERE.
---
LAST FLOWERS: THE ROMANCE AND POETRY OF EDGAR ALLAN POE AND SARAH HELEN WHITMAN.
With an essay by Brett Rutherford. Second edition, expanded and revised, 2003/2005, first paperback edition 2008. Fourth Edition, Expanded and Revised, December 2011, with additional annotations and illustrations.
This is the definitive book on Edgar Allan Poe's doomed romance with Providence poet Sarah Helen Whitman, and the first time her poetry has been available in print since 1916. This book contains the poems both poets wrote about one another, and the best work they might have read to one another during their courtship. The essay traces Poe's 28 days in Providence in detail, as well as the genealogy and family history of Mrs. Whitman. Additionally, an appreciation of Sarah Helen Whitman's highly romantic poetry helps to place her in the pantheon of American women poets where she belongs.
To read Brett Rutherford's Introductory Essay, CLICK HERE.
To read the poems, CLICK HERE.
Published December 2011. ISBN 0-922558-60-4. 164 pp. 6x9", paperback. $13.95.
CLICK BELOW TO ORDER FROM AMAZON. Or, purchase the PDF ebook for $4.00.
Buy Ebook Now
---
BARBARA A. HOLLAND.
CRISES OF REJUVENATION.
30th ANN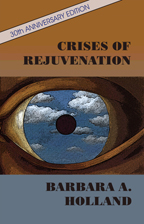 IVERSARY EDITION. The complete poetic cycle, Crises of Rejuvenation, originally published in two volumes in 1973 to 1975, is now expanded and annotated by Brett Rutherford. Most of the works in this collection are inspired by paintings of the Belgian surrealist Rene Magritte, and the notes explain the precise connections between the writings and the paintings. Those who heard Holland read in New York still remember some of the haunting works here, including "An Abominable Breakfast, " "My Old Friend, the Sorcerer," "High On Three Cups of Tea," and "The Inevitable Knife." Also here are the Wagnerian yearning of "Not Now, Wanderer," and the Ray Bradbury tribute, "Autumn Wizard."
The print edition of this significant poetic cycle from the 1970s is available now. ISBN 0-922558-20-5, 106 pp., paperback. $14.95. CLICK BELOW TO ORDER FROM AMAZON. Or, purchase the PDF ebook for $2.00.
Buy Ebook Now
(To learn more about Barbara Holland and her poetry, CLICK HERE.
---
BARBARA A. HOLLAND.
AUTUMN NUMBERS
THE POET'S PRESS has also issued a new facsimile edition of Barbara Holland's long-out-of-print 1980 chapbook, Autumn Numbers.
CLICK HERE to read or download this free Adobe Acrobat (PDF) e-book.
---

D. H. MELHEM.
NEW YORK POEMS
One of the early books from our press in New York City was D.H. Melhem's wonderful Notes on 94th Street, a powerful portrait of the vibrant but gritty Upper West Side of Manhattan by a long-time resident and community activist. D.H. was then embarking on her brilliant academic and creative writing career, which has included poetry, novels, and plays. Notes on 94th Street was published by The Poet's Press in 1972, and the sequel volume, Children of the House Afire/ More Notes on 94th Street, was published by Dovetail Press in 1979. We are thrilled that Syracuse University Press has issued this 184-page paperback edition combining both volumes into one, titled New York Poems.
D.H. writes about the two decades portrayed in her book: "[E]ach year and decade has shaken with its own turbulence. The 1970s ... were not halcyon days for the City. ...[W]e resided in a White, middle-class enclave on the Upper West Side, surrounded by poor Puerto Rican, Black and White neighbors. Some of them were crowded into SROs (Single Room Occupancy, city-supported hotels). We also lived with whores, pimps and crazies who were being dumped out of overcrowded mental institutions into the streets, along with angry, sometimes neglected children who occasionally preyed on others for money." The poems from Notes on 94th Street include unforgettable character portraits from the troubled years when urban renewal, gentrification, and racial and ethnic tensions played out over a rapidly-changing urban landscape. So why did New York not go the way of Detroit and Los Angeles and many other cities where black and white, rich and poor wound up in segregated, warring enclaves? Perhaps it is because people like D.H. watched, listened, and responded to their neighbors, including rather than excluding, and resisting the faceless forces that would have pushed aside a diverse population to make room only for the wealthy. They did not succeed in this, for the Upper West Side remains as diverse as ever. As the author notes, "While these poems witness another era, they celebrate the dynamics of urban change, the raucous vitality of this great City." She dedicates her book to "The City of New York, embattled, gallant, enduring."
To read a sampler of poems by D.H. Melhem, CLICK HERE
To order D.H. Melhem's New York Poems, via Amazon, CLICK BELOW.
---

JOEL ALLEGRETTI.
FATHER SILICON.
Here is one of the most startling books of poetry since Baudelaire. Joel Allegretti, author of The Plague Psalms, has been up to no good since his first book, and this new book goes darker and deeper still, delving into such delicate topics as The Juggernaut, Mother Julian of Norwich, Eurydice as Greta Garbo, Nico, spiders, the Gallows Tree, the horrors of 9/11, and "Billy the Whore: An Encomium in 9 Infections." Published 2006; third printing 2009. 72 pages,6.5 x 10.25" ISBN 0-922558-18-3, $13.95. CLICK BELOW TO ORDER FROM AMAZON.
Father Silicon was picked by The Kansas City Star as one of the ten most notable poetry books of 2006.
---
BRETT RUTHERFORD.
NIGHT GAUNTS: AN ENTERTAINMENT BASED ON THE LIFE AND WRITINGS OF H.P.LOVECRAFT.
Here is the expanded second edition of Brett Rutherford'
s biographical play, Night Gaunts: An Entertainment Based on the Life and Writings of H.P. Lovecraft. The drama portrays Lovecraft alone during his final days, with flashbacks to his childhood, the insanity of his parents, his "Horror Honeymooners" marriage in Brooklyn, and his triumphant solo return to Providence where he established his reputation as the greatest horror writer since Poe. The book also includes a number of "ceremonial" poems written to be read at H.P. Lovecraft's grave in Swan Point Cemetery, Providence. The play has been performed twice at The Providence Athenaeum; was adapted by Hal Hamilton as a radio play by New England Institute of Art in Brookline, Mass.; and was performed in 2006 at The University of Heidelberg by the theater company Expresis Verbis.
ISBN 0-922558-16-7. 94 pages. 6 x 9. $9.95.
CLICK BELOW TO ORDER FROM AMAZON.
Buy PDF Ebook Now
---
JOHN BURNETT PAYNE.
EMILY AND WALT, WALT AND EMILY
John Burnett Payne (1919-1986) was a well-known New York poet, active in the Manhattan poetry scene in the 1970s and 1980s. His sometimes gritty, sometimes wistful portraits of New York range from a fantasy about Emily Dickinson and Walt Whitman passing one another on crosstown buses (one hurtling to a poetry reading, the other fleeing it), to a stark depiction of the run-down movie theaters where the film Taxi Driver was shot. This book includes the full text of Payne's long-unavailable chapbooks, Ghosts Scare Tito Rosa; Tell Me That You Love Me, Con Edison; and At the Corner of Third Avenue and 14th Street. The volume has a foreword by Dennis Barone and an afterword and some annotations by Brett Rutherford.
The 104-page paper print edition is now available. ISBN 0-922558-19-1. 104 pp., 5.5 x 8.5" $14.95, and the PDF download is available for $4.99. To order from Lulu, CLICK HERE.
---
WHISPERING WORLDS. This exciting compilation of supernatural and science-fiction-themed poetry was compiled by David Bain in 1994 for what was planned as special issue of Riverrun magazine, a respected poetry journal. When his college administration balked at publishing "that kind" of content, Bain finally resolved, in 1998, to post the text he had edited (at least for those poets willing to enter cyberspace) on the Internet. The online anthology immortalized Bain's vision of the mythic-bardic-Gothic-interplanetary Muse, and, prompted him to release an ebook version of the anthology in 2001. Bain arranged the anthology into six sections: These Ghosts contains 24 poems about the world of haunts and the haunted; Whispering Worlds has 25 poems exploring the aberrant and abhorrent; The Inevitability of Light offers 21 poems from the more brightly-lit realms of fantasy; How the Blind Become the Dead includes 21 poems from the darker side of the fantastic; Escape Velocity features 23 narrative science fiction-themed poems; Chimes on the Quantum Wind has 22 poems emphasizing the science aspect of science fiction. We are delighted to help keep this important 1990s anthology in view. CLICK HERE TO DOWNLOAD AND READ

---
---
Version 20.0 Updated April 23, 2019
Forthcoming
books featuring poetry & writings by...
Brett Rutherford
Dante Alighieri
Sarah Helen Whitman
Arthur Erbe
Thomas D. Jones
David Messineo
Poets of the Palisades

Book Listings
Anthologies
Joel Allegretti
Jody Azzouni
Moira Bailis
Richard Davidson
Claudia Dikinis
Emilie Glen
Emily Greco
Annette Hayn
Heinrich Heine
Barbara A. Holland
D.H. Melhem
Th. Metzger
John Burnett Payne
Edgar Allan Poe
Shirley Powell
Susanna Rich
Brett Rutherford
Boria Sax
Charles Sorley
Vincent Spina
Pieter Vanderbeck
Jack Veasey
Jacqueline de Weever
Don Washburn
Sarah Helen Whitman
Section Links
Featured Poets
Guest Poets
Resources
Presses & Journals