Poet, Publisher, Editor
Born years and years ago in Scottdale, Pennsylvania, Brett Rutherford started writing his own science fiction comic books at the age of six, his own horror stage plays at the age of ten, poems at thirteen, and fiction at fifteen. The landscape of the mountainous area, with its abandoned coal mines, smoking coke ovens, and sinister hillbillies, colors his writings about his childhood years, which he survived thanks to science fiction novels, Classic Comics, Shakespeare, Shelley, Poe, H.P. Lovecraft, a small-town library, and a handful of good teachers. The ruins of his maternal grandmother's house, outside Scottdale, Pennsylvania, are shown below.
Rutherford attended school at Edinboro State University (then Edinboro State College), interrupted by a sojourn in the Haight Ashbury district of San Francisco, where he wound up reading his poetry in coffee houses and seeing his first magazine publication as a psychdelic centerfold in The Haight-Ashbury Free Press. During his sojourn in San Francisco he worked on that short-lived publication and became its editor.
He returned to school in Pennsylvania once again and spent two years engaged in working toward his degree in English, composing piano music, and running his own underground college newspaper, The Edinboro Prometheus. The Prometheus was one of only a handful of independent student newspapers during those years of tumultuous politics and antiwar fervor. There, he also produced a hand-made book of his poems based on the San Francisco experience, Songs of the I and Thou. He also did college radio work, and was a prize-winning student journalist for the school's above-ground newspaper, The Spectator.
He then left school and headed for New York City, where he was soon reading his poems in coffee houses and working for a living. Within a few months, he found work as a temporary typist at American Institute of Chemical Engineers on East 47th Street. In short order, he was offered the job of public relations director for that organization, which involved him in PR work, writing publications catalogs, editing executive speeches, and serving on committees for that non-profit. By 1971, he had acquired enough print buying experience to feel a desire to own a printing business. With a friend from Pennsylvania, he founded The Poet's Press that year. The aim of the press was to be a viable commercial printer, and to use the assets of the printing enterprise to publish poetry books for deserving authors. The Poet's Press also served Manhattan's gay community in the post-Stonewall years, doing printing for a number of gay activist groups and social organizations. Although the commercial venture went bust in the recession of 1973, The Poet's Press was well-launched as a small press and continued, publishing about a book a month at its busiest.
Along with poet Barbara A. Holland, Rutherford established Poets Fortnightly, a newsletter and poetry calendar, New York's first organized poetry calendar listing. He began publishing some of Greenwich Village's most intriguing new and "neglected" older poets, including Emilie Glen, Barbara A. Holland, Ree Dragonette, Donald Lev, Richard Davidson, D.H. Melhem, and Shirley Powell. He read at practically all the poetry venues in New York City, directed a staged reading of Richard Davidson's Song of Walt Whitman at Westbeth with a cast of poets and Equity actors, and read at the inaugural meeting of The [American] Shelley Society.
Running a series of poetry readings in his Sixth Avenue loft called "The Eighth Day," Rutherford helped found an informal circle of neo-romantic poets who were unlike the prevailing avant garde who centered around St. Mark's Church or the Upper East Side. These poets were fascinated with surrealist art, the supernatural, mythology, and often as not wrote longer, narrative poems. Two of these poets, Emilie Glen and Barbara Holland, had between them thousands of magazine publications of their work. In retrospect the Greenwich Village poetry scene of the 1970s may be seen as the last flowering of Literary Bohemia. In the following decades, it became economically impossible for writers to live and congregate in the Village or any other central "Bohemia." This was the end of an era, and The Poet's Press was a visible part of it. The readings these poets attended and hosted, held all over the city, were lively and often thrilling, and it was not unusual for two or even three poets to write and introduce new works in response to what another had written the previous week — or even the previous day. During this period, Brett Rutherford published his own early books: City Limits and The Pumpkined Heart, and edited the anthology May Eve: A Festival of Supernatural Poems.
To pay the bills and support his Muse, Rutherford found employment as an editor for National Association of Printers and Lithographers (NAPL), and within a few years he became communications director of that organization. Shortly after it moved to Teaneck, New Jersey, Rutherford made his own leap across the Hudson to the then-sequestered Weehawken, a small town perched on the Palisades directly opposite mid-town Manhattan. From there, he continued his literary and publishing ventures. Many new books came from the press; more new poets were found and fostered, and Rutherford accumulated a growing body of his own poems that he edited into thematic books, including Anniversarius: The Autumn Poems and Whippoorwill Road: The Supernatural Poems. He also co-authored a successful horror novel, Piper, with John Robertson, which was sold to Playboy Press as a hardcover, and then not published when that press shut down its hardcover operation. The book, in a thorough revision, finally appeared from Zebra Books and sold 35,000 copies.
When his place of employment was taken over by unpleasant management, Rutherford went freelance, and spent the 1980s editing and writing hundreds of articles, monographs, manuals and books about printing and graphic arts topics. He had a regular column in the weekly newspaper Printing News and edited four newsletters for Printing industries of America, and wrote technical, sales and marketing manuals and training materials for a number of non-profits. He also became a desktop publishing, computer and database consultant to publishers, helping several convert to computers and to train their personnel. His largest projects were three landmark market surveys and equipment censuses for the American gravure printing industry, the automation of a national database publishing concern, and editing and designing a college textbook on printing.
While he was doing this workaday work, accumulating more than 600 publication credits, he was applying the new techniques of desktop publishing and new media to The Poet's Press, producing books combining new technology with hand bookbinding, and publishing books on diskette and CD. In New York City, he co-founded, with Matthew Paris and Jane Madson-McCabe, The New York Writer's Cafe, an Internet cooperative that put hundreds of e-texts onto the Internet at a time when this idea was still quite leading-edge. The Poet's Press had its ups and downs during this period, at times almost vanishing, and then re-emerging when it seemed that some new technological breakthrough would make it possible to produce new books and help aspiring poets. He shared his novel production methods with a number of other small presses.
In 1985, the city of Providence, with its H.P. Lovecraft and Poe associations, beckoned Rutherford to pick up roots and try a new city. He liked the idea of moving with his writing and press to a college town, where he hoped to form a new circle of writers and artists interesting in working with him on the press. The move was also a great one for Rutherford's writing, and he soon produced The Lost Children, his second Zebra horror novel, his book Poems from Providence, and his biographical play about H.P. Lovecraft, Night Gaunts. The play was given two staged readings at The Providence Athenaeum.
Despite the charms of Providence, New York continued to be where the work was. Rutherford twice found himself returning to New York City to live — once to complete a major market study that required him to be on site, and once to take a position with a New York directory publisher as its Manager of Information Systems. During these returns he lived in Weehawken, and, briefly, in the atmospheric Vinegar Hill neighborhood near Brooklyn Heights and DUMBO, a neighborhood where Walt Whitman once lived and worked. The Poet's Press books published new books fitfully, and, despite all odds, the press passed the landmark of 150 books.
The late 1990s found Rutherford back in his beloved Providence, writing much new poetry, but watching with alarm as the printing industry, which had been the subject of his journalistic work, begin to shrink. Magazines shut down; others became ghosts of their former selves, and the nonprofit groups in the field no longer commissioned the kinds of large projects that he preferred doing. After several years of working for a market research firm doing elaborate surveys about the procurement plans of printing companies (a dreary topic indeed), and seeing little else on the landscape other than writing Chicken Little articles about the coming demise of print, Rutherford decided to commence a new life chapter.
How to combine a lifetime of experience in writing, publishing and printing? Back to school! The interrupted journey in academia was resumed in the Fall of 2003. Rutherford enrolled as a lowly undergraduate at University of Rhode Island. He graduated May 2005 with a degree in English and a minor in History. He started 2005 with a quadruple whammy: in the first week of the year, he published his newest poetry collection, The Gods As They Are, On Their Planets; a new, expanded edition of Whippoorwill Road: The Supernatural Poems; and an expanded edition of Night Gaunts: An Entertainment Based on the Life & Writings of H.P. Lovecraft. The fourth publication was an anthology from Invisible Books called Buried Alive: An Anthology of Underground Writing, which featured Rutherford's poetry. He was featured in an anthology of poems about space flight from University of Iowa Press, and a symphonic suite by composer William Alexander, inspired by three Rutherford poems, was performed by The Erie Philharmonic in April 2005; additional Rutherford-related works have been performed by that composer and orchestra orchestra since then.
In September 2005, he started graduate school at University of Rhode Island, and completed his master's work in December 2007. He worked for University of Rhode Island as Coordinator of Distance Learning, and was a part-time instructor in the URI Gender and Women's Studies Department. He created coollege courses on The Diva, Radical American Women, and Women in Science Fiction.
Retirement from URI in January 2016 launched a new chapter in life and publishing. Returning to his native haunts, Rutherford moved to the Squirrel Hill neighborhood of Pittsburgh, PA. The Poet's Press published five new titles in early 2016. With the adidtion of the Yogh & Thorn imprint, the press is also published some more scholarly, annotated editions.
The Yogh & Thorn editions to date include an annotated edition of World War I poet Charles Hamilton Sorley titled Death and the Downs; an annotated edition of World War I anti-war novel Despised and Rejected by A.T. Fitzroy; and an annotated edition of Matthew Gregory Lewis's landmark 1901 anthology of supernatural poetry, Tales of Wonder. Continuing the work of Lewis, Rutherford compiled two additional volumes,Tales of Terror: The Supernatural Poem Since 1800.
---
WHIPPOORWILL ROAD: THE SUPERNATURAL POEMS (Expanded and Revised 5th Edition).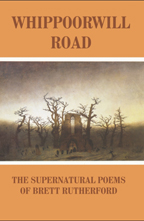 This is the expanded fifth edition of Brett Rutherford's landmark poetry collection, Whippoorwill Road: The Supernatural Poetry. This extraordinary 360-page paperback contains all the poet's supernatural poems, including major new poems added since the last edition. Praised by Robert Bloch and Ray Bradbury, these may be the best supernatural poems of our time. The writing ranks from the seriously Gothic through the downright hilarious, including Gorgons, Egyptian mummies, Lovecraftian horrors, vampires, werewolves, possessed sex toys and stuffed animals, and the personal recollections of Fritz, the hunchback assistant of Dr. Frankenstein. All of Rutherford's Lovecraft-related poems are collected in this volume -- more than 100 pages of Lovecratian items including all the poems written for the annual ceremonies at HPL's gravesite in Providence. Other major new items in this collection include the vampire narrative poem "Dawn," and "Lucy: A Verse Mystery," which pits Edgar Allan Poe against "The Spectre of St. John's Churchyard."

---
THE GODS AS THEY ARE, ON THEIR PLANETS.
Here is a huge 208-page new collection of Brett Rutherford's work. The Providence-based poet has included in this book nearly all the poems he has written and revised since his last big collection, Poems from Providence. The poems are grouped somewhat thematically, following the pattern set in the earlier work, so that each section is almost a chapbook unto itself. Groupings include 11 new autumn poems, additions to the "Things Seen in Graveyards" cycle, five new Lovecraft-related works, 31 poems from childhood and youth from Pennsylvania (many revisions of the early Pumpkined Heart cycle), musings on "The Literary Life," a group of perplexed love poems called "Not a Love Song, No, Never That!", and some timely poems grouped as "Here At the Millennium." Poems on classical themes are here, too, including "Athena and Medusa" and the iconoclastic "Prometheus Chained." Topics range from Clyde Tombaugh's 1930 discovery of Pluto, to the medieval invasion of Korea by Japanese warlords, to the World Trade Center disaster. A hard-core neo-Romantic, Rutherford hurls down the gauntlet here against tired, alienated, narcissist Modernism. ISBN 0-922558-14. Paperback, 208 pp, oversize "comic book" size, third printing 2012. $13.95.
CLICK HERE TO DOWNLOAD AND READ THE PDF
---
POEMS FROM PROVIDENCE: 20TH ANNIVERSARY EDITION.
Poems from Providence, a huge compendium of all the poems Rutherford created during his first years in Providence, Rhode Island (1985-88), was published in 1991. This great blossoming of neo-Romantic work was inspired by a change of locale to New England, by H.P. Lovecraft, and a deep immersion in the classical world, yielding the long "Ganymede" cycle, a prequel to The Iliad. Other memorable works in this paperback are "The Outsider," an elegy for Barbara A. Holland, Treblinka's "Ivan the Terrible," "The God's Eye: A Summer Diary" tracing a return to native haunts in Pennsylvania, the cat memorial poems to Thunderpuss, and the first appearance of the now-famous poem, "At Lovecraft's Grave." Illustrated with line-drawings by Pieter Vanderbeck.
To commemorate the 20th Anniversary of this volume, the poet has revised a number of the poems, and added six poems that are centered in or around Providence, including new Lovecraft poems and the Poe Providence mystery narrative poem, "Lucy."
Published July 31, 2011. 260 pp., 6x9 inches, paperback. ISBN 0-922558-58-2. $16.95.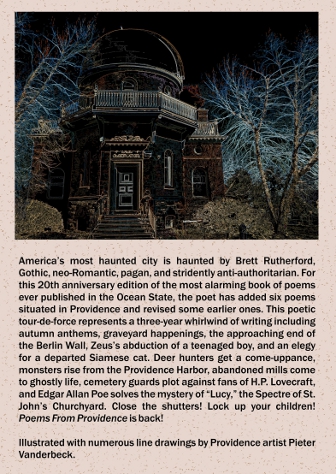 ---
ANNIVERSARIUS: THE BOOK OF AUTUMN
Now in its fourth edition and vastly expanded, Anniversarius: The Book of Autumn is Brett Rutherford's 40-poem epic cycle of autumn poems. Although there is plenty of Shelley, Poe, and Bradbury here in the celebration of "autumn's being," this cycle encompasses works that are mythic, metaphysical, political, satirical and, of course, supernatural.
Autumn becomes the landscape for Jan Palach's suicide in Soviet-invaded Czechoslovakia in 1969; for translations of Pushkin and Hugo; and for rhapsodic and moody invocations of fall in Western Pennsylvania (the poet's birthplace) and haunted New England (his adopted home). Greek myth comes in by way of a hymn to Rhea, the Oak Tree Goddess, an encounter with three oak nymphs, and a dinner party in Hades.
Rutherford walks in the footsteps of Poe in New York City, and sets two other powerful poems in Manhattan: one a panorama of historic Madison Square Park, and a troubled visit in the aftermath of 9/11.
Influenced by Poe, Shelley, Whitman, Jeffers, Hugo, Bradbury, and Greek classics, these poems present a cosmos tinged with autumnal sadness, yet they are brave with the delight in a life fully relished down to the last falling leaf. Although solitude and loss stalk through these pages, there are also poems expressing a defiant, transcendent spirit. Each of the two "Rings" of the work ends with powerful affirmation. The locales of the latest poems include New York, Providence, rural Pennsylvania, the planets Mars and Pluto, and Ming Dynasty China.
This book is meant to be relished slowly, to be read aloud and savored for music as well as meaning. Each poem stands alone as an "anniversary," yet the cycle as a whole is Romantic in sweep, its structure like that of two successive long symphonies.
---
DOCTOR JONES AND OTHER TERRORS
This chapbook, in full color, combines two terrifying poems about "Dr. Jones," a perhaps-imaginary, perhaps-real mad surgeon whose speciality is cutting off arms and legs from young boys in rural Pennsylvania. Rutherford here presents a disturbing sequel to an already-disturbing childhood recovered memory. In "Torrance," the links between Doctor Jones and Western Pennsylvania's legendary, dreaded state mental hospital are revealed. Color digital art reveals Dr. Jones' vintage car, his medical kits, and images of the present-day ruins of the state hospital, where ordinary mental patients were mixed with the criminally insane. 32 pp., paperback, ISBN 0-922558-29-9.

THINGS SEEN IN GRAVEYARDS.
Revised and gathered together here in one compact, oblong book are all 15 of Brett Rutherford's multi-faceted graveyard poems. Terrifying, sardonic, satirical, romantic, erotic, these neo-Romantic works are set in New England graveyards at Mt. Auburn, Providence, Salem, and rural Rhode Island, with side trips to New York City's Potter's Field (Hart Island), a haunted monument in Kyoto, and the legendary Aceldama in the Holy Land. Accounts of strange exhumations, grave robberies, graveyard trysts interrupted by lonely ghosts, and a delicious transcript of a meeting of cemetery security guards. There is much to savor in this handsome book, illustrated with black-and-white photos and pen-and-ink digital art. 80 pp. ISBN 0-922558-27-2
The Companion "Images" Volume is now available. 48 pages of full color digital photographs and digital art by Brett Rutherford. Views of historic cemeteries in Rhode Island, Massachusetts, and other locales, mixed with evocative close-ups of foliage, flowers, exotic fungi, and the haunted architecture of Providence and Marblehead. 48 pp., ISBN 0-922558-28-0
CLICK HERE to order either/both titles from our LULU bookstore.
.




Printing History & Literature Lecturer and Teacher Brett Rutherford has written articles and book reviews on printing history and is a book collector. He has given lectures for the John Russell Bartlett Society at The Providence Athenaeum, Brown University, and The Providence Public Library on "Elbert Hubbard and the Roycrofters," "Poe and Mrs. Whitman," and "Illustrated Editions of Edgar Allan Poe." At the Athenaeum, he has lectured on Edgar Allan Poe and Sarah Helen Whitman, and has read his supernatural poems there in a series of annual Halloween readings.
Rutherford has been a guest lecturer at New England Institute of Art (AI) in Brookline, Mass, where he has presented on H.P. Lovecraft and Edgar Allan Poe. He was also a part-time instructor with the Gender and Women's Studies at University of Rhode Island, where he has developed and taught courses on "The Diva," Radical American Women, and Women in Science Fiction: From Mary Shelley to Sigourney Weaver..

---

Classical Music Connections An avid collector of classical music and an occasional composer of keyboard music, Brett Rutherford has helped The Providence Athenaeum establish Rhode Island's best and most accessible circulating library of classical CDs. He has donated his entire collection of 5,000 CDs, ranging from Chinese opera to 20th century music, to be the foundation of the new circulating collection. He hopes to organize programs and lectures that will help re-establish the historic link between literature and art music. This collection also has a strong emphasis on American music.

Brett Rutherford also writes program notes for the invitational chamber music concerts given by pianist Varda Lev, and for The Rhode Island Chamber Music Concerts. Concert announcements and notes can be read at their web site (click over their name above). To read Brett's essay on Handel's Ode for St. Ceclia's Day, CLICK HERE.

---

Autumn Thunder, Distant Gods: The Gay Poems Love poems, elegies for dead friends, and memories of being the "other" in childhood are gathered here in this new web-page in progress. Rutherford has put some of his most personal and illuminating poems here for the first time. Read them by clicking here.

---

Night Gaunts Brett Rutherford's play, Night Gaunts, was written to celebrate the 50th Anniversary of the death of America's greatest horror writer, who spent almost his entire life in Providence. Two staged readings in 1987 and 1990 featured actor Carl Johnson as H.P. Lovecraft and played to sold-out houses. The script was published by The Poet's Press in 1988, and in a new, revised edition in 2005. The play includes two vivid female characters — Lovecraft's mother, who gets a great mad scene, and Lovecraft's New York wife, Sonia Greene, who enacts a kind of "Horror Honeymooners" with the romantically inept author. This play was adapted by Hal Hamilton into a radio drama, broadcast in Boston in October 2004 and soon to be issued as a CD. Translated into German in 2005, the play was performed in Heidelberg, Germany in January 2006 by the theater company Expressis Verbis. To see the photo gallery from the U.S. and German stagings, CLICK HERE. To read the play in HTML format, CLICK HERE. To download the play as a PDF, CLICK HERE. To order the printed play,CLICK HERE TO ORDER FROM AMAZON.

---

Never Far From A Library Libraries are central to Brett Rutherford's existence. He grew up in places where they were minimal if not nonexistent. In recent years, he has donated almost all of his personal collections to libraries where they will be preserved and made accessible to the public. He gave more than 350 specimens of printing by the Roycrofters to The Providence Athenaeum, as well as his collection of 4,000 classical CDs. He has donated a collection of wood engravings by artist John DePol to the Providence Public Library's Daniel Berkeley Updike Collection, along with a number of books on printing history. Complete sets of the editions published by The Poet's Press have been donated to the Harris Collection at the John Hay Library at Brown University, and to Poets House in New York City; Carnegie Public Library in Pittsbrugh and the library at University of Rhode Island has a substantial number of titles as well. Rutherford chaired the Philbrick Poetry Prize Committee for the Providence Athenaeum for a decade. In February, 2005, he was elected to the Board of Directors of The Providence Athenaeum, and served two additional terms starting in 2008. After persuading the library to install a bust of Athena, he wrote and directed a ceremonial pageant play for the installation of the goddess, Who Is Athena?