---
BRETT RUTHERFORD.
NIGHT GAUNTS: AN ENTERTAINMENT BASED ON THE LIFE AND WRITINGS OF H.P.LOVECRAFT.
Here is the expanded second edition of Brett Rutherford'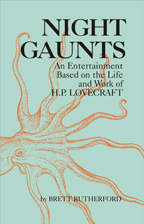 s biographical play, Night Gaunts: An Entertainment Based on the Life and Writings of H.P. Lovecraft. The drama portrays Lovecraft alone during his final days, with flashbacks to his childhood, the insanity of his parents, his "Horror Honeymooners" marriage in Brooklyn, and his triumphant solo return to Providence where he established his reputation as the greatest horror writer since Poe. The book also includes a number of "ceremonial" poems written to be read at H.P. Lovecraft's grave in Swan Point Cemetery, Providence. The play has been performed twice at The Providence Athenaeum; was adapted by Hal Hamilton as a radio play by New England Institute of Art in Brookline, Mass.; and was performed in 2006 at The University of Heidelberg by the theater company Expresis Verbis.
ISBN 0-922558-16-7. 94 pages. 6 x 9. $9.95.
CLICK BELOW TO ORDER FROM AMAZON.
Buy PDF Ebook Now
---
---
Version 21.4 Updated November 18, 2019
History of the Press
Book Listings
Anthologies
Joel Allegretti
Leonid Andreyev
Mikhail Artsybashev
Jody Azzouni
Moira Bailis
Callimachus
Robert Carothers
Samuel Croxall
Richard Davidson
Claudia Dikinis
Arthur Erbe
Erckmann-Chatrian
Emilie Glen
Emily Greco
Annette Hayn
Heinrich Heine
Barbara A. Holland
Thomas D. Jones
Michael Katz
Li Yu
Richard Lyman
D.H. Melhem
David Messineo
Th. Metzger
J Rutherford Moss
John Burnett Payne
Edgar Allan Poe
Meleager
Ovid
Suzanne Post
Shirley Powell
Burt Rashbaum
Ernst Raupach
Susanna Rich
Brett Rutherford
Boria Sax
Charles Sorley
Vincent Spina
Ludwig Tieck
Pieter Vanderbeck
Jack Veasey
Jonathan Aryeh Wayne
Jacqueline de Weever
Don Washburn
Phillis Wheatley
Sarah Helen Whitman
Section Links
Featured Poets
Guest Poets
Resources
Presses & Journals